Marco Rubio On Newt Gingrich Pulling Florida Attack Ad: 'He Made The Right Choice'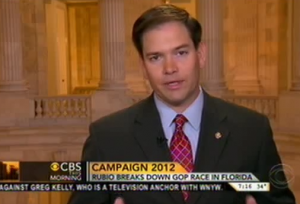 Sen. Marco Rubio — the popular Florida Republican whose name has been brought up as a possible GOP Vice-Presidential candidate — was a guest on CBS This Morning Thursday, and addressed Newt Gingrich's pulling of a Spanish-language attack ad on Mitt Romney that accused him of being anti-immigration. Gingrich said he pulled the radio ad out of respect to Sen Rubio, who had problems with the divisive language used.
Rubio explained how the entire thing transpired, terming it "very simple," and saying someone asked what he felt about it.
"I didn't think it was accurate," he said. Rubio reminded host Charlie Rose that Florida is a swing state, and statements like this could come back to haunt the GOP in November.
"Whoever wins this nomination is going to have to come back to Florida and win again. And I want to make sure that we don't have candidates out there saying things that we're going to have to come back later on and defend or clean up in the fall when we have to campaign in Florida. I wouldn't characterize it as scolding. I was asked my opinion about an ad. I made my opinion. I think Speaker Gingrich made the right decision."
Erica Hill later followed up with a question trying to bait Rubio — who has not made an endorsement — into opining on which of the candidates, "has the best message and plan to help people in Florida and around the country."
"Yeah…yeah," Rubio said, laughing. "Nice try!"
Watch a clip of the interview with Rubio below, courtesy of CBS:
Have a tip we should know? tips@mediaite.com