Marco Rubio: Romney Presidency Will Be 'About Making And Keeping America Special'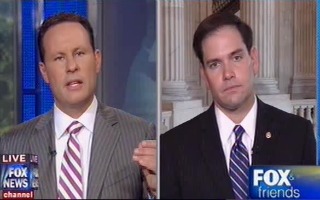 Florida Republican Sen. Marco Rubio appeared on Fox & Friends on Thursday where he discussed his version of the DREAM Act, Hispanic voters and their reluctance to embrace the Republican party and the candidacy of Mitt Romney. Earlier, Romney had praised Rubio on Fox & Friends. When asked about this, Rubio responded that Romney was doing a good job of advancing the cause of the GOP and said a Romney presidency "is going to be about making and keeping America special."

RELATED: Romney On Fox & Friends: Solutions Needed For 'New Problems That Were Created By President Obama'
Rubio talked to co-host Brian Kilmeade about his sponsorship of the Startup Act 2.0 which he said would address the concerns about American "brain drain" and would make it easier for educated citizens abroad to come to the U.S. to work.
"We modernized the legal immigration system and changed the way some of the visa programs work so that it works better for Americans and American jobs," said Rubio.
Kilmeade asked Rubio about the findings in two recent polls, one that showed Republican presidential candidate Mitt Romney leading President Barack Obama in Rubio's home state of Florida and the other that showed Romney losing nearly two thirds of the Hispanic vote to Obama.
"It seems as though the Republican party, since George Bush got 40 percent when he first ran, has been losing the Hispanic vote," said Kilmeade. "Why?"
Rubio said that some Hispanic communities and families had a tradition of Democratic affiliation and so most Hispanics would identify as such in order to participate in local politics. "Folks like that aren't going to change their party affiliation in one election," said Rubio. He also said that President Obama has been working on shoring up the Hispanic vote for six to eight years, which also contributes to Hispanic's loyalty to Democrats.
"There is a large and growing number of Americans of Hispanic descent that is deeply concerned about the future," said Rubio. "They want to desperately accomplish their own dreams and, more importantly, they want to leave their children better off than themselves. This is a very typically American sentiment — I think it is profoundly felt in the Hispanic community across this country."
Rubio said that Republicans need to make the argument that the free market system is the only way to make a better life for the next generation and that would attract Hispanic voters.
Kilmeade asked Rubio about his version of the "DREAM Act" which he said is in the works. Kilmeade asked if Romney planned to embrace his version of immigration reform to which Rubio said it was premature to ask because the bill is not yet completely drafted.
Finally, Kilmeade played a clip of Romney on Fox & Friends earlier on Thursday where he praised Rubio's speaking ability and focus on the issues that he says matter to Americans. Kilmeade said that Romney's reading Rubio's speeches "shows a level of interest," to which Rubio responded that "we read his speeches too."
Rubio said that Romney was doing a good job advancing the cause of the Republican party in this election. "This is a choice about our identity," said Rubio. "Do we want to remain special or do we want to become like everybody else." Rubio concluded by saying that he thought Romney's presidency "is going to be about making and keeping America special."
Watch the segment below via Fox News Channel:
Have a tip we should know? tips@mediaite.com