Rachel Maddow Responds To Her Starring Role In Marco Rubio's Latest Campaign Ad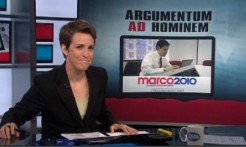 Something about Rachel Maddow makes her especially attractive to Republican campaign fundraising pleas. You will recall back in March Mass. Senator Scott Brown issued a call to supporters asking them to donate to his fund so he could fight off a Senate run by Maddow. Of course, Maddow had no intention then, or ever, of running for office, said so on her show, and then proceeded to turn the whole incident into an entertaining week-long segment which, as I recall, Brown did not come out the better for.
Be that as it may, this has not stopped Florida Senate candidate Marco Rubio from using Maddow as the subject of his latest fundraising spot, though albeit in a much friendlier tone. Using a clip from a past show during which Maddow takes Rubio to task for his "12 simple ideas to grow the economy and create jobs" in beleaguered Florida. "Think Rubio is wrong?" says the ad, "Rachel Maddow comes on at 9pm." However, if you agree with Rubio, donate here, etc.
Last night, after thanking Rubio for the extra press, and declaring she loves Florida, Maddow proceeded to dismantle Rubio's plan with her own mock ad. So why the Rubio ad in the first place? One assumes it's merely a play by Rubio for larger press coverage. While, Scott Brown was clearly attempting to use Maddow as a scare tactic, the tone of Rubio's ad is far too tame and friendly to enrage and/or motivate voters. Moreover, while Maddow is very popular among media people who pay attention to the cablesphere, I'm not sure her reach (she averages a million viewer a night) is such that her views could influence an election. Or maybe she can! One more campaign spot featuring Maddow would make a trend.
More likely, Rubio is hoping to start some back and forth that results in Maddow taking out a full page ad somewhere….free press is priceless. So far she appears to be playing along. Watch below.
Have a tip we should know? tips@mediaite.com