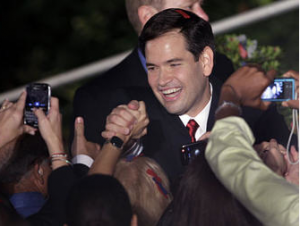 Watch for Marco Rubio — he's going to be everywhere. I bet the Sunday talk show bookers are already fighting over him now.
Rubio, the handsome, well-spoken, telegenic, just-39-year old newly-minted Senator from Florida, is something everyone can agree on: The GOP, from whence he sprang, and which preferred him to the ousted Charlie Crist; the Tea Party, whose principles he trumpeted early and who will be eager to claim a mainstream, non-kooky candidate; both of them, eager to find any common ground between them; and the media, who loves a young, telegenic, well-spoken rising star like nobody's business.
The "he's the next Obama" references are already coming thick and fast. They are not saying "the next Sarah Palin" — Rubio is a classic politician, and last night's acceptance speech was passionate without being fiery, gracious without being soft, confident without being arrogant, humble without really conceding much.
"Our nation is heading in the wrong direction and both parties are to blame," said Rubio last night, reasonable and accepting, distancing himself from the gridlocking Party of No. "We make a grave mistake if we think this election is an embrace of Republicans — these results are a second chance for the Republican Party to be what they said they were going to be not so long ago."
Rubio, flanked by his loving family, opened graciously with words of thanks to Charlie Crist and words of praise for the "dignity and strength" of Kendrick Meek. He emphasized the importance of his family, thanked his wife, and went on to outline his own story as someone who rose through the Cuban-American immigrant community. "I will always be the son of exiles," he said, "and will always be the heir of two generations of unfulfilled dreams." This statement would carry emotional weight for anyone watching, imbued as it is with the classic story of the American dream — but it was all the more poignant knowing that Rubio's father had died just two months ago. (His mother, Coria, standing with her son last night, got to see the dream of watching her son rise to be a U.S. Senator fulfilled.)
There is additional weight to that statement: Rubio's Latino heritage is a plus, not a minus. That's a not-at-all-inconsiderable voting bloc, and growing. With Rubio, it would swivel to the GOP — away from the Dems, who have been able to take it for granted. But with Rubio ascendant, there's not much they'll be able to take for granted.
"He was the first serious Tea Party candidate to rise to national attention, and now he will be one of the leaders in the new conservative movement in the GOP Senate caucus," wrote Ed Morrissey of Hot Air early this morning. "If anyone deserves a victory lap tonight, regardless of the content of his speech, it's Marco Rubio."
But the content of his speech was his victory lap — the fact that he was the kind of candidate who could be gracious, humble and mildly critical of his own party and it would all be seen as a plus. After all, when you're really secure, you don't need an orange baseball bat. Marco Rubio is really secure — secure as any newly-elected freshman Senator could be, right now, knowing that his name is suddenly in the same sentence as "2012."

Related:
Is Marco Rubio brightest rising star of tea party? [CSMonitor]
A Star is Born: Rubio Wins U.S. Senate Race [MSNBC]
"Jeb Bush: "The right man at the right time" [NYT]
Midterms 2010: Marco Rubio's victory fuels presidential talk [Telegraph UK]
Rubio's Acceptance Speech:


Photo by the Associated Press
Have a tip we should know? tips@mediaite.com