Marco Rubio To Hannity: Even If You Raise Taxes On The Rich By 100 Percent, It Won't 'Solve Anything'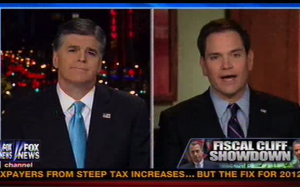 Senator Marco Rubio appeared on Sean Hannity's show tonight to discuss the latest in the negotiations between the White House and Congress over the impeding fiscal cliff. Hannity asked Rubio why the GOP isn't doing more to push back against the Democrats. Rubio admitted that John Boehner is between a rock and a hard place, politically speaking, and made the point that tax hikes are not going to effect that much change, even if taxes were raised to 100 percent on the wealthy.
RELATED: Boehner Issues Ultimatum To Obama: Sign House Bill, Or Take Blame For 'Largest Tax Increase' In U.S. History
Hannity admitted that he's getting "frustrated" with how the Republican party is handling the negotiations, and asked Rubio why they aren't trying to articulate the case that the Democrats are engaging in "generational theft." Rubio said that Boehner is in a difficult position, while making the point that if the country were to raise taxes by 100 percent, "that doesn't solve anything," but instead "creates a bunch of problems."
Hannity suggested the GOP is "afraid" of the fiscal cliff and don't want to admit that the United States has a spending problem. Rubio made it clear his party is concerned about the fiscal cliff, but he said the real problem is the lack of a clear plan to deal with the nation's massive debt. He said a combination of fiscal discipline and real economic growth is the "only solution," criticizing President Obama for not having a real proposal.
Rubio also argued that when taxes are increased, it's not just business owners that get impacted by tax hikes, but also their workers. He slammed a "great hypocrisy on the left" when it comes to taxes, stating the obvious maxim that "the more you tax something, the less people will do it."
Hannity suspected that the GOP "miss[ed] an opportunity here" to communicate how their vision for the country is different from Obama's, but expressed hope that the party will jump at future opportunities to have the debate.
Watch the video below, courtesy of Fox News:
—–
Follow Josh Feldman on Twitter: @feldmaniac
Have a tip we should know? tips@mediaite.com
Josh Feldman - Senior Editor