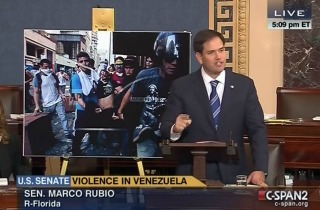 Upon returning from a trip to Cuba, Sen. Tom Harkin (D-IA) appeared on the floor of the U.S. Senate and delivered a speech praising the Cuban government for what he called their advanced health care system and socialized education system. Upon hearing this speech, Sen. Marco Rubio (R-FL) responded with a blistering attack on Cuba's repressive government and his colleague's credulous acceptance that tyrannical government's pronouncements.

Rubio began by noting that a variety of the statistics Cuba purports to show that it is an advanced state when it comes to health services are massaged. "I heard him also talk about these great doctors that they have in Cuba," Rubio said of his Iowa colleague. "I have no doubt they're very talented. I've met a bunch of them. You know where I met them? In the United States, because they defected. Because in Cuba doctors would rather drive a taxi cab or work in a hotel than be a doctor."
RELATED: Rolling Stone Writer Who Backs 'Full Communism' Defends Piece on MSNBC
Rubio added that Harkin recalled how people in the streets in Cuba had nothing negative to say about the United States. He noted that this contradicts the logic for lifting the embargo, opponents of which say that it is used by the Castros to foment anger against the U.S.
Rubio also noted that an American in a "hostage" in Cuba for handing out satellite radios to Jewish Cubans, contradicting testimony of how well that American was being treated by Harkin's delegation.
"What they are really good at is repression," Rubio continued "They have exported repression in real time, in our hemisphere, right now."
Rubio went on to discuss the violence being carried out against anti-government demonstrators in Venezuela and asserted that this violence was being carried out by a government propped up by Cuba. "But you want us to reach out and develop friendly relationships with a serial violator of human rights, who supports what's going on in Venezuela and every other atrocity on the planet?" the senator asked of his Democratic colleagues. "On issue after issue, they are always on the side of the tyrants."
"I would suggest to my colleagues, the next time they go to Cuba, ask to meet with the Ladies in White," Rubio added. "Ask to meet with the dissidents and the human rights activists that are jailed and repressed and exiled."
"I bet you're going to hear something very different than what you got from your hosts on your last trip to the wonderful Cuba, this extraordinary socialist paradise," he concluded. "Because it's a joke. It's a farce."
Watch the video below, via C-SPAN 2:
[Photo via screen grab]
— —
> >Follow Noah Rothman (@NoahCRothman) on Twitter
Have a tip we should know? tips@mediaite.com