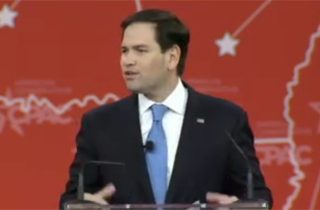 At his fifth CPAC appearance, Sen. Marco Rubio (R-FL), one of the many candidates flirting with running for the presidency, told a rapt audience that, no matter who they chose in the straw poll, they had to answer one question: "What kind of country are we going to be?"
"Our nation is on the road to decline," he predicted But here's the good news. We are one election away from triggering another American century?
Pushing the theme of American exceptionalism throughout his speech — "When was the last time you heard about a boatload of american refugees arriving on the shores of another country?" — Rubio used it to lay out a policy vision that emphasized a strong military, an educational system that got students work-ready with minimal debt, a repeal of Obamacare, and, crucially, a large revision of his own plans for immigration reform.
"Imagine if we had a commander in chief who understood that the way to defeat ISIS is not to find them a job," he said. "Imagine if we had a president who didn't travel the world badmouthing Americans. After all, that's the UN's job."
"America doesn't owe me everything, but I have a debt to America I will never be able to repay," he added, citing his own parents' status as Cuban refugees. "This is the America that changed my parents, and this is the America we are asked to leave behind."
Afterwards, he sat down with Sean Hannity, who rapidly fired questions about Rubio's possible presidential policies (though Rubio refused to say whether he was running). Naturally, it included a lightning round and word association: "Hillary Clinton? Yesterday. Obama? Failed."
But crucially, he did a walk-back on his position on immigration reform: First, arguing that the border needed to be secured more thorougly, and second, that legal immigration itself needed to be fixed first — a proposal that drew applause:
We also have a legal immigration system that's the most generous in the world. A million people come here legally every year, but it's all based on whether you have a family member here. And it can't continue to be based on family alone. It has to be based on some sort of merit or economic contribution. [Applause] And yeah, you have 10 to 12 million people who have lived here, some for longer than a decade, who have not broken any immigration laws, I get all that. But what I've learned is that you can't even have a conversation about that until people believe and know — not believe, but know — that future illegal immigration can be controlled and brought under control.
Watch below via CSPAN3:
[Image via screenshot]
—
>> Follow Tina Nguyen (@Tina_Nguyen) on Twitter
Have a tip we should know? tips@mediaite.com