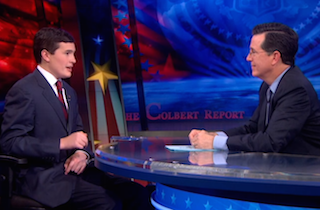 Sen. Marco Rubio (R-FL) is very concerned about his status as a role model for teens. That's why he's refusing to answer the simple yes or no question of whether he's ever tried marijuana. If he says yes, then kids might think you can smoke weed and still become a member of the U.S. Senate. "If you tell people that you didn't, they won't believe you," he recently told ABC News' Jonathan Karl.
To find out just what kind of effect Rubio is having on the youth of America, Stephen Colbert invited a young man named "David," who has really embraced all things Rubio, to appear on The Colbert Report Thursday night.
David told Colbert he's such a big fan of Rubio because he's so "successful," asking, "Did you know my man Rube-dog helped draft a Senate immigration bill, before backing away from it, then ultimately voting for it only to see it go nowhere in the House? He's the man." David then took a very awkward sip of water from a comically small water bottle placed just off screen.
Asked if he slacks off in school, David took another page out of the Rubio handbook, answers, "Stephen, let me tell you why I never answer that question. If I said I'm not slacking off, you wouldn't believe me. And if I said I am slacking off, I'd be setting a bad example for all the middle school kids who look up to me because I'm in high school."
This is what happens when teens take all of their cues from Marco Rubio.
Watch video below, via Comedy Central:
[Photo via screengrab]
— —
>> Follow Matt Wilstein (@TheMattWilstein) on Twitter
Have a tip we should know? tips@mediaite.com