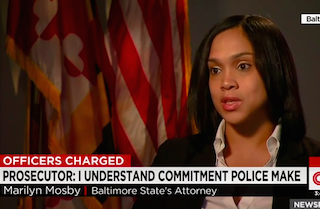 After announcing charges for the six officers involved in the arrest and ultimate death of Freddie Gray, Maryland State Attorney Marilyn Mosby sat down for an interview with CNN's Don Lemon that will air in full tonight during the 10 p.m. ET hour.
When Lemon told Mosby that it's been a "tough time" for her, "in the spotlight" and "under the microscope," she responded calmly, "I don't think it's tough. The people of Baltimore voted for me to do my job and to carry out justice and that's what I'm going to do as the state's attorney for Baltimore city."
"As a prosecutor, you should not bring charges if you don't that you have probable cause, that these individuals are responsible for the charges," Mosby added. She stressed that she comes from five generations of law enforcement and understands "the time, the commitment, the sacrifice that these police officers make, time away from their families on a day-to-day basis, risking their lives for the benefit of our communities."
RELATED: Fox's Jeanine Pirro Praises Baltimore State's Attorney Mosby for Charging Officers
But at the same time she said, "Those officers that usurped their authority, you have to be able to hold them accountable because it does a disservice to the really hardworking police officers, so for me it's about applying justice fairly and accurately to those with or without a badge."
Before Mosby even announced of the charges, one Baltimore police union sent her an open letter asking for the appointment of a special prosecutor for the case, citing conflict of interest due to her "personal and professional relationship" with the Gray family attorney.
Watch video below, via CNN:
[Photo via screengrab]
— —
>> Follow Matt Wilstein (@TheMattWilstein) on Twitter
Have a tip we should know? tips@mediaite.com