Marine Jokes To MSNBC's Tamron Hall: With Celebrities Coming, There's No Room For My Family At The Ball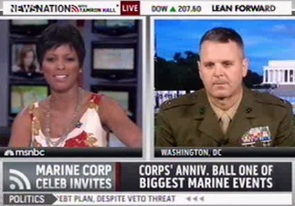 A ticket to a Marine ball is quickly becoming the hottest thing in Hollywood and a legitimate status symbol. Stars of the new movie Friends With Benefits Mila Kunis and Justin Timberlake have each accepted invitations to the ball, and now fellow celebrities Betty White and Paul Walker have also been asked out on a date for it (although it seems White has declined the offer). With so many celebrities potentially joining the party, MSNBC's Tamron Hall spoke with the Marines' Director of Media Operations about all of the exciting publicity.
Major Stewart Upton, who is media savvy enough to have his own Twitter account, at first seemed comically annoyed by all of the celebrities crashing, saying "it's definitely a concern for some of us who would like to attend and make sure that we get tickets for everyone in our family." Yet he quickly revealed that he actually thinks this is a great idea to draw attention to the sacrifices that the Marines have made over the years.
However, the Major revealed one possible prerequisite for Timberlake's entrance into the ball, warning that "one of the last thing that happens is the dancing, and we hope to see Justin out there dancing!" Hall suggested Upton better be dancing right alongside him too.
This story is certainly of the "good news" type that everyone could enjoy, yet with all of these Marines inviting celebrities to their ball, wouldn't it be nice if some members of Hollywood returned the favor and started asking men and women in uniform to come as dates to their parties, like the Emmys and/or Oscars?
Watch the clip from MSNBC below:

Have a tip we should know? tips@mediaite.com