Marion Barry Calls Weiner 'Good Democrat,' Then Unloads On Geraldo: 'Stop The Bullsh*t' On My Past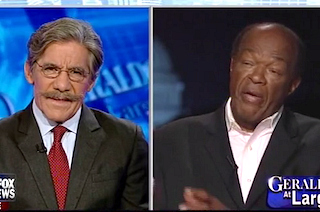 Former Washington, D.C. Mayor Marion Barry got into a profanity-laden fight with Geraldo Rivera on Saturday night, telling the host to "stop the bullsh*t" about his conviction for crack cocaine, before ultimately showing empathy for embattled New York City mayoral candidate Anthony Weiner.
"One bit of advice to the congressman," Marian Barry said. "I'd stop talking so much about now and start talking about what you did for seven terms while he was in the Congress. He's a good Democrat."
Barry offered his sympathy to Weiner as someone "who has been through the mill," as Geraldo put it, of scandal and disgrace.
"In terms of Congressman Weiner, I certainly understand not what a he did, but what happens to you after that," Barry said. "Your family suffers from it, your wife suffers from it."
CBS' Bob Schieffer Slams 'Sickening' Weiner: 'New Age Flasher' Who 'Traded Raincoat For Digital Camera'
This considered advice from the mayor followed a testy exchange with Rivera after the host characterized Barry's scandal as "much worse" than Weiner's or San Diego Mayor Bob Filner's, noting that Barry was videotaped smoking crack cocaine and "got reelected mayor anyway."
Barry did not appreciate this summary, arguing that he'd never smoked crack cocaine, but that he didn't know what he had smoked in the incident that led to his arrest. "You bought crack from crack dealers and you were smoking it and you didn't know what it was?" Rivera asked.
"Will you stop this bullsh*t about me doing something that's not factual?" Barry said.
"You want to apologize to our viewers for the obscenity you just uttered?" Rivera asked.
"I'm sorry, I got upset," Barry said. "When people lie like you just did, I get upset."
Watch the full exchange below, via Fox News:
—
>> Follow Evan McMurry (@evanmcmurry) on Twitter
Have a tip we should know? tips@mediaite.com