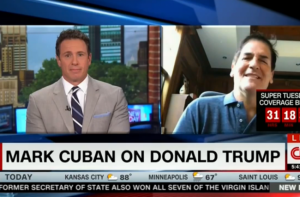 Despite recently calling into question Donald Trump's worth, Shark Tank's Mark Cuban admitted today that yes, the real estate titan and presumptive nominee is in fact a billionaire. However, as Cuban — who owns the Dallas Mavericks, Landmark Theaters, and Magnolia Pictures — told CNN's Chris Cuomo, Trump is not worth his supposed 10 billion dollar wealth. Cuban said, "You know, assuming [Trump] hasn't had to keep on borrowing because he has had liquidity issues then, yeah, I would give him credit for being a billionaire. But is he worth 10 billion? Nah."
Cuban is a political independent, but has thrown his name in the hat as Hillary Clinton's running mate; the Shark Tank vet even once stipulated that Trump would only be a "puppet president." Cuban has also questioned Trump's aptitude for leadership in the past, once remarking:
"In order to be an effective leader, in order to define a vision and explain how you're going to accomplish that vision, you have to understand the issues. You have to dig deep and really have a solid understanding of everything that you can touch, really, everything that's important. And Donald really hasn't made that effort. If you look back over the last 10 months, you don't say, look, he has really started to show an in-depth grasp, nuanced grasp of all the issues that he's talking about. It's the exact opposite."
Cuban continued by telling Cuomo Monday, "Donald doesn't even send emails. Donald doesn't have a clue about tech." He continued, "I'm a big believer that the greatest partnerships, the best partnerships aren't with people who, you know, think exactly the same. You want to have some variance in skill sets. You know, in my business career, all my best partners, all my biggest wins have come with partners who are the exact opposite, that complement my skill set." Only time will tell who Trump's VP will be, but if Mark Cuban were really as interested in the gig as he once made it seem, he didn't do himself any favors with his latest attack.
Watch the above video from CNN's New Day.
—
[image via screengrab]
Have a tip we should know? tips@mediaite.com