Mark Geragos Blasts Zimmerman Lawyers' Presser On CNN: I Thought I Was Watching SNL Skit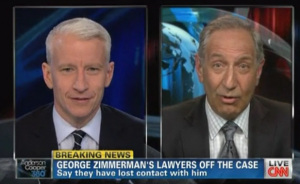 Lawyers Mark Geragos and Jose Baez spoke to Anderson Cooper Tuesday night, following Cooper's interview with George Zimmerman's ex-lawyers Hal Uhrig and Craig Sonner (who withdrew today). Blasting the attorneys' attributing their decision to "ethical obligations," Geragos called their conduct a "train wreck." He added that he felt like he was watching a Saturday Night Live skit.
The interview with Uhrig and Sonner was a rehashing of the information they gave in the press conference. They cited concern for Zimmerman's mental health, said they knew what state Zimmerman was in, and that they're confident he's not at flight risk.
RELATED: George Zimmerman's Lawyers Withdraw As His Counsel After Losing Contact With Him
Geragos criticized the lawyers for how they've dealt with the situation:
First of all, I don't understand people invoking their ethical obligation and then going out and blasting the client, which is what they just did. This may be the height of chutzpah for criminal defense lawyers to say we haven't talked to our clients for two days so therefore we're withdrawing. By the way there's no court case filed, so there's nothing to withdraw from, number one. Number two, who are you to be diagnosing your client's mental state when you haven't talked to him? This is completely inexplicable, and I thought I was watching a Saturday Night Live skit.
"My tongue is bleeding because I was biting my tongue watching this," he added. "I don't like to second guess other lawyers in the eye of the storm. But this is frankly one of the most outrageous things I've witnessed." Geragos added that it's "the height of absurdity."
Baez agreed with the argument Geragos put forth. Any conversation the lawyers had with Zimmerman, Baez said, is completely protected — so they shouldn't be discussing his mental state on television. It's "reprehensible," he said.
Geragos chimed in: "What do they have in the water down there in Florida? I don't understand what they're doing. This is absolutely the worst thing I think I can remember seeing any lawyers do in regards to their clients."
Additionally, Baez noted that a retainer agreement isn't immediately required in Florida.
Take a look at the segment, via CNN:

Have a tip we should know? tips@mediaite.com