Mark Halperin: Cuccinelli Calling for Christie to Step Down from RGA a 'Canary in the Coal Mine'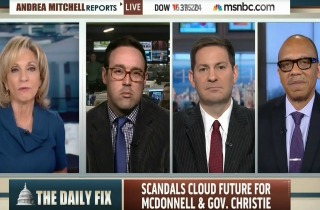 A panel of political experts on MSNBC's Andrea Mitchell Reports noted the significance of former Virginia Attorney General Ken Cuccinelli calling for New Jersey Gov. Chris Christie to step down as the chairman of the Republican Governor's Association for the 2014 cycle. The panel guests noted that Cuccinelli's potentially self-interested statement does not matter much, but one guest also noted that he could be just the first in a series of high profile GOP figures to call for Christie to step aside.

Cuccinelli told the host of CNN's Crossfire on Tuesday that Christie should consider stepping down from the RGA because "he does not serve the goals of that organization by staying as chairman."
RELATED: Why Ken Cuccinelli Lost, and What It Means for the GOP: 7 Must-Reads
TIME Magazine reporter Mark Halperin said that, while Cuccinelli himself is not especially relevant, his sentiments are shared by other prominent Republicans. "And I think this is a bit of a canary in the coal mine," he added. "I'm not saying he should give it up or it will, but I do think that will be the first pressure point as the investigation envelops his administration more than it already has."
Washington Post columnist Eugene Robinson noted that Cuccinelli and Christie come from two distinct wings of the GOP. "This could be used as an opportunity by the Republican right to cut him down a notch, or more than a notch, actually," Robinson said.
Washington Post reporter Chris Cillizza agreed and noted that, if Christie fails to perform as a fundraiser for the organization, he may be compelled to leave that post. "Ken Cuccinelli saying something one way or the other doesn't really matter all that much," he observed.
Watch the clip below via MSNBC:
[Photo via screen grab]
— —
> >Follow Noah Rothman (@NoahCRothman) on Twitter
Have a tip we should know? tips@mediaite.com