Mark Halperin Decides Proponents Of Federal Gun Regulation Are 'Not Winning' Debate Because He Says So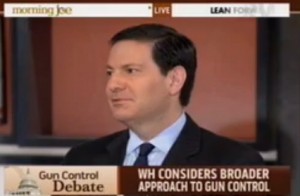 Morning Joe contributor and Time magazine editor Mark Halperin is harming America. On Monday morning's Morning Joe, even as conservative host Joe Scarborough was an outspoken voice of reason on gun regulation, Halperin dispensed the sort of mainstream media "conventional wisdom" that builds the poisonous false narratives which sabotage effective policy-making. The Washington Post is reporting that Vice President Joe Biden's gun violence task force plans to do more than just reinstate the expired assault weapons ban, but Halperin declared that "people who want lots of new laws to regulate guns at the federal level are currently not winning the debate."
That's bad news for the overwhelming majorities of Americans who support the measures described in that WaPo article, but who are apparently missing from the debate taking place in Halperin's "mind."
In fact, there are only two parties who did show up to that debate: congressional Republicans, and the Democratic Senator from North Gunnistan.
The segment began with host Joe Scarborough blasting freshman GOP Sen. Ted Cruz (R-TX) for calling the new proposed regulations "unconstitutional," asking, rhetorically, if Cruz had ever read the U.S. Constitution, or any Supreme Court cases.
"Because if he had," Scarborough said, "he would not say that background checks are unconstitutional, or that any of the things that have been brought up are unconstitutional, because the Supreme Court clearly and unequivocally said that Americans have a right to keep and bear arms, and that means keeping handguns in their home. That means being able to protect their families in their home. But they gave wide latitude to the government to regulate guns in every way that people determine."
The regulations that Scarborough and Halperin were referencing, from Philip Rucker's Washington Post piece, are:
Sen. Dianne Feinstein's tougher ban on assault weapons and extended magazines
universal background checks for firearm buyers
national database to track the movement and sale of weapons
stronger mental health checks
penalties for carrying guns near schools or giving them to minors
These measures don't have a prayer, according to Mark Halperin, because "not just Republicans, Heidi Heitkamp, the new senator from North Dakota, was pretty strong, too, in saying she didn't agree with a lot of these things. So the people who want lots of new laws to regulate guns at the federal level are currently not winning the debate."
So, according to Mark Halperin, Republicans who won't take a dump unless Wayne LaPierre signs off on it first, and Heidi Heitkamp, who won't take a dump unless Wayne LaPierre signs off on it first (and still couldn't get the NRA to leave her alone), are beating the tar out of the rest of America in this debate. Joe Scarborough, to his credit, attempted to inject a modicum of reality into the discussion by quoting polls that show overwhelming support for some of these measures, but even he falsely characterizes regulations on assault weapons as "more down the middle."
The fact is that polling on the expired assault weapons ban has consistently shown 60% or more support for reinstating it, dating back years, and when the ban was about to expire in 2004, even 72% of Republicans favored continuing it. Polls on gun registration consistently show about 70% of Americans support for a national gun registry, and one poll found that 70% of Americans think there is already a national firearms registry in the U.S., when there's actually been a federal law against such a registry since 1986. Public support for background checks is nearly unanimous. Republicans and gun nuts are falling all over themselves to deflect legislative action onto mental health issues, so that can't be the problem. Is it really "extreme" to suggest penalties for giving guns to minors?
That's what Sen. Heitkamp thinks, as she told This Week's George Stephanopoulos on Sunday, "what I hear from the administration — and if the Washington Post is to be believed — that's way — way in extreme of what I think is necessary or even should be talked about."
Boom! Game over, everyone else in America. One Democratic senator, who admits she has a proven record of failing at reducing school violence, has spoken. "When I was attorney general," Heitkamp also said on This Week, "I was tasked with a national task force on school violence.  We made a number of recommendations which, in fact, were adopted at Sandy Hook to help keep schools safer.  They weren't adequate."
It's tempting to give Sen. Heitkamp a pass because it's unquestionably better to have a gun-nut Democratic senator from North Dakota than a gun-nut Republican, and she barely squeaked past her opponent, but Heitkamp didn't have to say anything at all, let alone something this stupid. The measures under discussion may well be too "extreme" to preserve Heitkamp's A-rating from the NRA, but in the real world, they enjoy ridiculously overwhelming support.
As wrong as Sen. Heitkamp is, she's at least doing her job as a gun-nut Democrat. Mark Halperin's job, as a journalist, is to point out that she's wrong, not declare her the winner of the gun control debate. They are both failing their obligation to the public, but Halperin's failure is more complete, because his poisonous "analysis" is being passed off as objective, to an audience that will have outsize influence on the outcome of this debate. With so many lives hanging in the balance, the public deserves better.
Have a tip we should know? tips@mediaite.com