Mark Halperin: If Mitt Romney Is Blown Out On Super Tuesday 'The Party Has To Get Him Out Of The Race'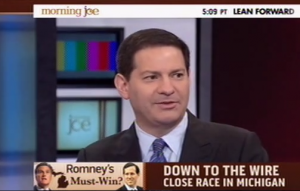 On Tuesday, the Morning Joe crew was discussing, of course, the Michigan primary. The conversation took an interesting turn as they talked about Mitt Romney's prospects should he lose in his home state, and how this primary might play out. Mark Halperin insisted Romney would remain a frontrunner, but brought up another angle: Romney's fate if Super Tuesday turns out to be a disaster.
The general consensus around the table was that a Michigan loss would truly be a blow to Romney. Though Halperin insisted that if Romney loses, "he's still the front runner for the nomination. And that is because no one is going to get in as long as he is in." He added, "I don't think a major candidate will enter the race. He has a lot of delegates."
RELATED: Chris Christie: If Romney Loses Michigan, GOP May Have Brokered Convention
Halperin then remarked:
Michigan would be a huge blow. The danger for him is if he's blown out on Super Tuesday, which he could be, then I think the party has to get him out of the race. While he could win it, it would be too ugly.
Joe Scarborough lamented, "It's hard to comprehend how weak this field is." The panel then went on to discuss which Republican politician could enter the race from the sidelines (always a rumor-clad topic), and Mika Brzezinski went over the latest polls, which show the race to be incredibly tight.
Have a look, via MSNBC:

Have a tip we should know? tips@mediaite.com