With Another Sycophantic Interview, Mark Halperin Proves He's Trump's Biggest Cheerleader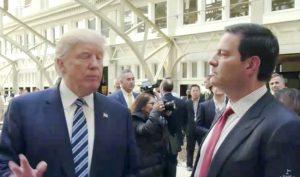 Earlier today, Bloomberg's Mark Halperin interviewed Republican presidential nominee Donald Trump at the ribbon-cutting ceremony of his Washington, D.C. hotel. Shortly after the interview hit the air, Halperin came under fire for the softballs he tossed the real estate mogul.
Nauseating, soft, sycophantic interview of Trump by Mark Halperin. Hard to believe such an intelligent man could be so deluded.

— Tony Schwartz (@tonyschwartz) October 27, 2016
Mark Halperin loves Donald Trump more than I love diet soda.

— (((Harry Enten))) (@ForecasterEnten) October 27, 2016
I mean, there is a non-zero chance Halperin ends up on Trump TV, right?

— Dylan Scott (@dylanlscott) October 26, 2016
Remember that Mark Halperin said Trump was "one of the two most talented candidates ever," could put Calif. in play & would pick female VP.

— Kevin M. Kruse (@KevinMKruse) October 26, 2016
CNN's Dylan Byers tweeted out part of the transcript and noted how it "can't be real."
This transcript of Mark Halperin's Trump interview can't be real… pic.twitter.com/M4x4EkuW1f

— Dylan Byers (@DylanByers) October 26, 2016
He then asked if anyone would be able to tell the difference if you replaced Halperin's name with Sean Hannity.
I mean, if I replaced "Mark Halperin"" with "Sean Hannity" here, would you question it? https://t.co/XCrlsDRjwO

— Dylan Byers (@DylanByers) October 26, 2016
Now, for those who have paid attention for these past 18 months or so, this really comes as no surprise. If there is one thing that has been a constant throughout this neverending campaign, it's that Halperin has been Trump's loyal lapdog.
Sure, one can find instances of Halperin being critical of the former reality TV star, especially during times when Trump was facing widespread derision regarding one of Trump's scandals of the moment. And Halperin will certainly call out ideological journalists himself.
Yet, at the same time, he's come to bat for Trump on things that so-called respectable political journalists would never have placed themselves on the ledge over. When the GOP nominee was dealing with the fallout over the Judge Gonzalo Curiel situation, Halperin came to Trump's defense by saying his attacks on Curiel weren't "racial" because Mexico's not a race.
Earlier in the year, a week before Trump clinched the GOP primary, Halperin was on Morning Joe and made host Joe Scarborough laugh him down when he attempted to make the case that Trump was such an appealing candidate that he could potentially flip California red.
Look, when JoeScar thinks your Trump sycophancy is a bit much, you may have some issues.
And we can go on. There's the time Mark said Donald Trump was a more gifted political candidate than Barack Obama. There was Halperin seemingly pushing for a conventional VP pick.
And then there was this photo.
I hope Halperin remembered to ask about California RT @bpolitics:JUST IN: Donald Trump tells @MarkHalperin that he's "gonna win" White House pic.twitter.com/qderWnXzGm

— Jamison Foser (@jamisonfoser) October 26, 2016
No matter what Mark does over the coming weeks and after the election, his Trump cheerleading will follow him around — and he won't be able to shake it.
Watch video of the interview above, via Bloomberg.
[image via screengrab]
–
Follow Justin Baragona on Twitter: @justinbaragona
— —
This is an opinion piece. The views expressed in this article are those of just the author.
This is an opinion piece. The views expressed in this article are those of just the author.