Mark Halperin Predicts Obama Will Endorse Gay Marriage, And 'Help Him Win Reelection'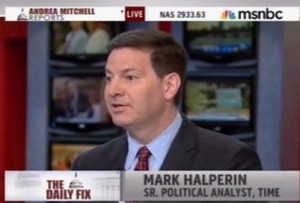 TIME Magazine reporter and author of the best-selling book Game Change, Mark Halperin, told MSNBC's Andrea Mitchell that he believes President Barack Obama will endorse gay marriage in an ABC interview later on Wednesday afternoon.

RELATED: MSNBC Guest Kids Himself–Gay Marriage Remains A Politically Toxic Issue For Obama
Mitchell and Halperin discussed the optics of the President cancelling the daily White House press briefing and summoning an ABC News reporter to the White House for a special interview on the heels of a controversial vote in North Carolina that adds a constitutional amendment that defines marriage as existing only between a man and a woman. Halperin says that the President will complete his "evolution" and will endorse gay marriage rights.
"The Vice President, I think, forced his hand," said Halperin, referring to an interview that Vice President Joe Biden gave to NBC's Meet the Press on Sunday in which he appeared to endorse gay marriage rights.
The President, I think, was headed in this direction even before the election. There was a lot of speculation he would wait until after he was reelected or lost, but I think the people around him all felt there was going to come a time where he needed to do this. It's where everyone, or almost everyone, who works for him is. I think, and a lot of people think who have observed him over the years think, it is where his heart is. And I think when he does it – although there will be a lot of speculation with political implications – it's just as likely to help him win reelection than hurt him.
Washington Post reporter Chris Cillizza agreed that "the optics" of the President's dramatic interview suggests an about face in official White House policy is in the offing. However, he says that he is not convinced that the issue will be a political winner for the Obama campaign.
"I would say that there are real dangers inherent in President Obama… I think there is something there," said Cillizza. "How big it is, we don't know."
Watch below via MSNBC:
Have a tip we should know? tips@mediaite.com