Mark Halperin's Terrible Ted Cruz Interview Unites Left and Right in Mockery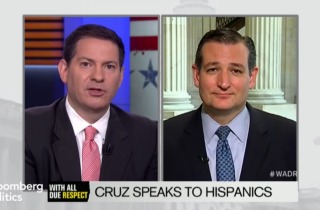 Mark Halperin's truly cringe-worthy interview with Sen. Ted Cruz (R-TX) may have aired April 30 on Bloomberg TV, but somehow we the media missed it until a San Jose Mercury-News columnist tore it apart over the weekend.
Since then, much of the media — left and right — has united in deriding Halperin.
First, the interview itself: The seven-minute interview largely focused on Cruz's appeal to Latino voters, with some truly strange questions like "Your last name is Cruz and you're from Texas. Just based on that, should you have appeal to Hispanic voters?" and "I wanted to give you the opportunity to welcome your colleague Senator Sanders to the race and I'd like you to do it, if you would, en Español."
Sadly, the interview went largely unnoticed until Mercury-News columnist (and former CNN contributor) Ruben Navarrette pointed out the absurdities, writing on Saturday: "As a Hispanic, I felt like I was watching a college fraternity have fun with racial stereotypes, like when staging a 'border party' where people show up in serapes and fake mustaches."
Watch the full interview below for an idea of how Navarrette may have felt:
Following that opinion column, conservative media outlets tore into Halperin. What a "train wreck" of an interview, wrote HotAir's Jazz Shaw. "Asking Cruz to say something in Spanish is akin to asking a black person to eat watermelon or start dancing," PJ Media's Rick Moran asserted, with the hidden headline: "Mark Halperin, bigot." NewsBusters, Twitchy, and The Daily Caller all got in on the fun as well. Conservative video group Digitas Daily collected all the worst moments in a short clip.
But, wait, there's more — and from decidedly non-conservative media: Washington Post's Philip Bump made the case that the "cringey" interview is all part of Halperin's schlocky primary analysis. "We give Halperin a D on style and an F on substance," Bump joked, referencing the Bloomberg analyst's baffling use of letter grades.
And over at ThinkProgress, Ian Millhiser did not hold back, awarding the interview a mock-prize for "The Most Racist Interview of a 2016 Candidate." Congrats!
"Whatever drove Halperin to grill Cruz about his Cuban bona fides," Millhiser noted, "Halperin's critics are right to lay into him. Ted Cruz should be judged based on whether his policies will help or harm voters, not based on whether he can name his favorite Cuban musician."
Add Halperin's name to the list of people that do the world a service by unwittingly bringing together the left and right in jeers.
UPDATE — 2:00 p.m. ET: Halperin has apologized for the segment. Read about that here.
— —
>> Follow Andrew Kirell (@AndrewKirell) on Twitter
Have a tip we should know? tips@mediaite.com