Mark Levin Excoriates House GOP, Chris Christie For Helping Divert Attention From Obama's Scandals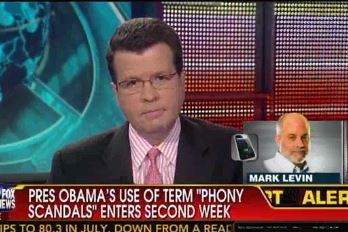 Conservative radio host Mark Levin wants to know when President Barack Obama decided that the scandals plaguing his administration, which he initially thought were serious, are now "phony." On Tuesday, he appeared on Fox News Channel with Neil Cavuto where he took on Obama as well as Republicans like the GOP's House leadership and New Jersey Gov. Chris Christie for providing the White House with rhetorical leverage to divert attention from these scandals.

"This president could give a damn about a serious investigation about scandals that are swirling around his administration," Levin said. He observed that the administration has put more effort into sending officials out to media forums to deny that there is any evidence relating to malfeasance within the administration than investigating that malfeasance.
"What's necessary is for the Republicans in the House to get their act together," he said. Levin advocated for one special investigative committee to look into the Benghazi attack and the IRS targeting scandal. "And then the pressure builds for a special prosecutor," Levin added. "Even though [Attorney General Eric] Holder won't want to appoint one, over time enough information comes out where it's going to become necessary."
RELATED: Rush Limbaugh Tells Greta Van Susteren Why Obama Actually 'Likes' His 'Phony Scandals'
"The president uses this word 'phony,'" Levin noted. "It's actually a perfect word for him, because his speeches are phony, his promises are phony, his economy's phony, the whole damn thing is phony."
The conservative radio host criticized the GOP House leadership for balking at investigating these scandals because, in his opinion, they do not see any political upside for the Republican Party in their investigation.
Levin turned to the scandal surrounding the National Security Agency's information collection and metadata warehousing practices. He was asked to weigh in on the feud brewing Gov. Christie and Sen. Rand Paul (R-KY) over the necessity of those programs.
Levin challenged Christie to stand up in front of the families of victims of 9/11, as he suggested Paul do, and explain to them how the NSA's methods keep Americans safe or prevent terrorists from entering the country. He said that Christie's support for immigration reform is a greater threat to national security than anything that may have been prevented by the NSA's intelligence gathering practices.
Watch the clip below via Fox News Channel:
> >Follow Noah Rothman (@NoahCRothman) on Twitter
Have a tip we should know? tips@mediaite.com