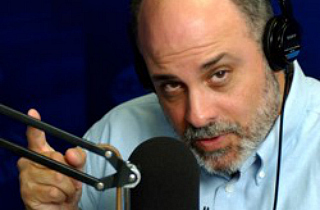 On his radio show Monday evening, Mark Levin aired his grievances with Mediaite's Monday evening article stating the host went after Fox News for being a part of "Republican media" and not "conservative media."
Calling Mediaite a "phony little website," Levin claimed our editor Matt Wilstein reported that he "trashed" Fox News as part of a "hard left" desire to paint the radio host as at odds with the country's number-one cable news channel.
The word "trash" was never used in Wilstein's article, and the original piece made rather clear that the conservative talker was lamenting how, in his belief, "establishment Republicans" like Karl Rove have used the network as a pulpit from which to preach "accommodation, and surrender and moderation as conservatism."
Nevertheless, Levin said he "will trash Mediaite as an institution."
While continuing to criticize Mediaite's ongoing coverage of his feud with the "establishment" elements of the GOP, Levin stated that he truly wants Fox News to succeed and his beef lies squarely with "Republican operatives" like Rove, certain unnamed hosts (though he hints at Bill O'Reilly) and contributors, and some of the network's producers and bookers who Levin believes use their platform to promote the GOP "agenda" against conservatives.
"I want Fox to do well, I want them to flourish," he added, noting that he admires the network's "management" like CEO Roger Ailes. In his belief, the network is hurting itself by airing views of the Republican establishment that run counter to the majority of its viewers.
Levin challenged Mediaite to "record this," and so we did. Enjoy below, via The Mark Levin Show:
— —
>> Follow Andrew Kirell (@AndrewKirell) on Twitter
Have a tip we should know? tips@mediaite.com