Mark Levin Trashes Obama For Ignoring The Constitution, Tells GOP To 'Start Acting Like Men'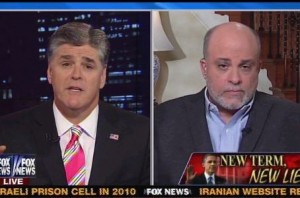 Conservative radio host Mark Levin made his first regular appearance on Sean Hannity's Fox News show tonight. Levin tore into Obama over his threat of issuing executive orders if Congress does not pass his agenda, listing amendment after amendment that Obama has flagrantly ignored. However, Levin also had some tough words for Republicans, telling them to start "acting like men" and stopping Obama in every legal manner possible.
RELATED: Mark Levin Goes Off On Obama, Pelosi, Reid, And 'Gutless' Republicans For 'Destruction Of America'
Hannity and Levin were both amazed at how Obama could say in his State of the Union that none of his proposals would add a dime to the deficit. Levin said Obama continues to lie to the American people, and went after him for not acknowledging the grim realities of the economy in his address last night. He claimed that the president "treats us like we're France," and completely ignores the Constitution in trying to get his agenda past Congress through executive orders.
Hannity said that Republican unity will be the key to pushing back against Obama's policies, asking Levin if he has any advice for them in fighting back. Levin laid it on the line for the GOP.
"Start acting like men and women. Start toughening up. Start drawing lines and mean it. Just say no, as Nancy Reagan used to say, but just say no to Obama… We have a problem on our hands. We can't keep feeding it. So sometimes you've got to make some tough decisions. If it requires shutting down the government for a few days, shut it down."
He concluded, "Stop acting like groomed politicians, speak in plain English."
Hannity and Levin ended agreeing that they are both fearful of what the Obama administration has in store for the next four years, but Levin said Republicans need to start taking him to court and doing whatever they can to legally stop him.
Watch the video below, courtesy of Fox News:
—–
Follow Josh Feldman on Twitter: @feldmaniac
Have a tip we should know? tips@mediaite.com
Josh Feldman - Senior Editor