Mark Sanford Asks Chris Wallace 'Is This Fox News Or The National Enquirer?'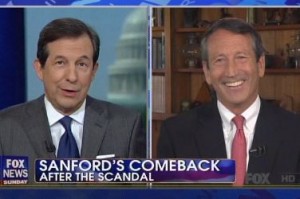 Former South Carolina Governor and current Congressman-elect Mark Sanford celebrated his victory over electile dysfunction with an appearance on Fox News Sunday, where he good-naturedly bristled at host Chris Wallace's personal line of questioning by asking "Is this Fox News, or The National Enquirer?"
Wallace took the jab in stride, referencing it at the end of the interview by telling Sanford, "Incidentally, if I was The National Enquirer, you were the Chamber of Commerce for the low country there."
Wallace brought the jab on himself, first by asking some very personal questions about Gov. Sanford's children and their reaction to fiancé Maria Belen Chapur, and then by planting the suggestion himself, in a followup question.
"You are now engaged to the woman with whom you had the affair, Maria Belen Chapur " Wallace said. "She made a brief appearance, and we have a picture of it up on your screen at your victory party, which raised some eyebrows. Question, what did your boys think of that — your four boys, and have they accepted her?"
"I'm not going to get into inner family conversations," Sanford replied, "but I would just say it is what it is."
Wallace pressed on, asking "Do you have a date for your wedding, and will your fiancee come to Washington to live with you? I feel like I'm The National Enquirer here."
"Exactly, is this Fox News, or The National Enquirer?" Sanford replied, adding that he was "not going to make news on that front."
Wallace called back to the remark toward the end of the interview, needling Sanford's home-state boosterism by remarking, "Incidentally, if I was The National Enquirer, you were the Chamber of Commerce for the low country there."
In a glaring omission, though, Wallace failed to properly credit Sanford for boosting Appalachian Trail tourism.
Here's the clip, from Fox News Sunday:
Follow Tommy Christopher (@TommyXtopher) on Twitter.
Have a tip we should know? tips@mediaite.com