Mark Wahlberg to Tom Cruise: 'How F*cking Dare You' Compare Acting to Afghanistan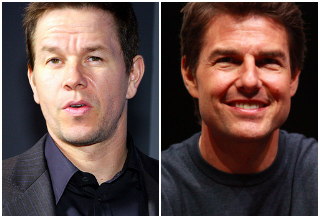 Mark Wahlberg had some harsh words anyone who compares acting in Hollywood to fighting in the military during Q&A following the world premiere of his new film Lone Survivor Tuesday night. While Wahlberg did not mention Tom Cruise by name, he did allude to alleged comments that actor recently made comparing shooting on location to fighting in Afghanistan.
Wahlberg was asked a question about the shoot for his new film, in which he portrays one of three real-life Navy SEALS on a mission in Afghanistan when he unleashed this impassioned rant:
"For actors to sit there and talk about 'Oh I went to SEAL training,' and I slept on the — I don't give a fuck what you did. You don't do what these guys did, you just don't For somebody to sit there and say my job was as difficult as somebody in the military's. How fucking dare you? While you sit in a makeup chair for two hours.

I don't give a shit if you're getting your ass busted. You get to go home at the end of the day. You get to go to your hotel room. You get to order fucking chicken. Or your steak. Bottle of Cabernet, or whatever the fuck it is."
Cruise's comments surfaced in legal documents that were obtained–and possibly distorted– by TMZ. While the site initially used the headline "Tom Cruise: My Job's As Hard As FIGHTING IN AFGHANISTAN," they later added an update that tampered the actor's views a bit.
The actual transcript read:
Lawyer: "Now, your counsel has publicly equated your absence from Suri for these extended periods of time as being analogous to someone fighting in Afghanistan. Are you aware of that?"

Cruise: "I didn't hear the Afghanistan, but that's what it feels like, and certainly on this last movie, it was brutal. It was brutal."
Regardless, Wahlberg clearly saw his most recent public appearance as an opportunity to let the world know just how off-base he believes any comparison between acting and military service to be.
Watch video below, via TMZ:
[h/t The Wrap]
[photos via Wikimedia Commons]
— —
>> Follow Matt Wilstein (@TheMattWilstein) on Twitter
Have a tip we should know? tips@mediaite.com