Martha Raddatz's Approach Should Be The Standard For Future Debate Moderators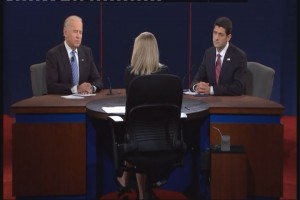 Jim Lehrer tried to defend his performance moderating last week's presidential debate between Barack Obama and Mitt Romney by saying he wanted to "facilitate direct, extended exchanges between the candidates about issues of substance" and he wanted to make sure he was "stay[ing] out of the way of the flow." But what tonight's debate definitively proved is that a good exchange of ideas does not require the moderator to stay above the fray. Martha Raddatz not only asked better questions of the two candidates, but she asserted enough control so that the candidates did not go too far over their allotted time.
Raddatz used her first question to grill Biden on whether the administration's response to Libya was a "massive intelligence failure." A number of times she told the candidates to be "specific." Remember Lehrer asking them innumerable variations of the same "what's the difference between you on this issue" question? Raddatz not only told the candidates to be specific, but she asked specific questions, like the following:
To Joe Biden: "What were you first told about the attack? Why — why were people talking about protests? When people in the consulate first saw armed men attacking with guns, there were no protesters. Why did that go on?"

To Paul Ryan: "What is your specific plan for seniors who really can't afford to make up the difference in the value of what you call a premium support plan and others call a voucher?"
The choice of Raddatz was viewed as an odd one, considering her background as the senior foreign affairs correspondent on ABC. But what she did tonight should be the gold standard for future moderators. She grilled the candidates just enough on their positions to spur them on, but struck a good balance in when she interrupted both men. Ryan and Biden interrupted each other a number of times, and Raddatz intervened to remind them not to talk over each other. But when they were on a roll, Raddatz let them go for a bit, because candid exchanges make for good moments in debates like these.
A moderator is supposed to tell candidates to be specific. A moderator is supposed to really grill the candidates. These are nights when millions of people who do not follow the news tune in to watch politicians speak, and they shouldn't just hear the candidates spew out talking points without being challenged on them.
We need more debates like this.
h/t ABC News for debate transcript
[Image via]
—–
Follow Josh Feldman on Twitter: @feldmaniac
Have a tip we should know? tips@mediaite.com
Josh Feldman - Senior Editor