Martin Bashir's Duplicitous, Child-like Claim Romney Going To Hell For Saying Obama Pegged Unemployment At 8%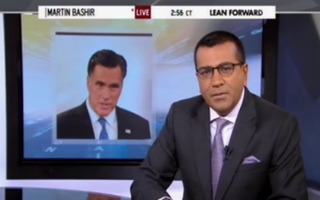 On his program on MSNBC on Thursday, Martin Bashir said Mitt Romney may be going to hell for lying about a number of things, but notably about "his favorite lie," that Barack Obama claimed that the 2009 stimulus would keep unemployment below 8 percent. Beyond that being a child's attempt at an argument, it is demonstrably false.

RELATED: Martin Bashir Helpfully Spells Out 'C**T' On MSNBC
"Mr. Romney seems to be having some trouble telling the truth," said Bashir. "In fact, yesterday, Mitt the mendacious offered a hat-trick of falsehoods." Among other lies, including not seeking Ted Nugent's endorsement and there being a left-wing conspiracy against him, Bashir highlighted what he believes is Romney's "favorite lie."
That is, the "utterly false claim that the president promised to keep unemployment below a certain level."
"That figure of 8 percent was a speculative projection written by two analysts with limited access to data and well before the president was even inaugurated, "said Bashir. "It is something that the president has never written nor said."
Bashir goes on to intimate that the Mormon church damns liars to hell and, therefore, Romney is going to hell. No joke.
Well, this is all quite compelling. Romney is claiming Obama said something he didn't. In fact, there seems to be an all-out effort to debunk this claim that Obama said that unemployment would ever be at some arbitrary number. And why would he? It is such an obvious and amateurish mistake to pin oneself to a projection that could fail.
In fact, a search for "8 percent unemployment stimulus" in Google reveals the first three results are from 2012 (WaPo and Politifact respectively) which take Romney to task for claiming Obama said that the stimulus would keep unemployment below 8 percent.
Somehow, the entire nation and the press was cleverly duped into believing that the Obama administration predicted that the 2009 stimulus funds would keep unemployment at or below 8 percent after the funds were fully spent. True genius.
This from the Washington Post:
Before passage of the stimulus bill, the Obama administration had predicted that unemployment would peak at 8 percent before beginning to abate this fall. But unemployment has already reached 9.4 percent, the highest level in a quarter-century, and the situation is not projected to start improving until long after the White House had predicted.
And the AP:
Just 10 days before taking office, Obama's top economic advisers released a report predicting unemployment would remain at 8 percent or below through this year if an economic stimulus plan won congressional approval.
In June of 2009, when ABC News' Jake Tapper asked Vice President Joe Biden's chief economist Jared Bernstein why the administration had projected that the passage of the stimulus spending bill would keep unemployment at 8 percent when, at the time, it was 9.4 percent, he did not protest.
Then there is this, now infamous, unemployment projection chart authored by former White House economic advisor Christina Romer and Bernstein. That's right. Those "two analysts with limited access to data" that Bashir was referring to was a senior White House economic advisor and The Vice President's Chief Economist. And that period Bashir characterized as "well before" Obama was inaugurated was, well, 10 days.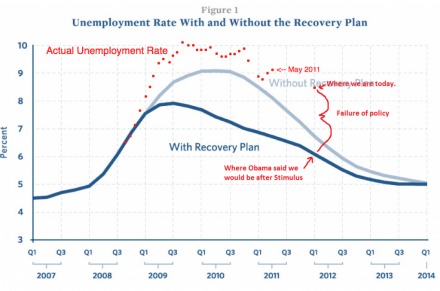 Don't believe me? Believe New York Times economist Paul Krugman who profiled Bernstein and Romer on the subject days before Obama's inauguration. (Hat tip to Right Sphere for the comical insertion of the margin of failure – it is quite helpful).
So, the 8 percent unemployment figure was part of the sales pitch by the Obama administration to persuade a friendly Congress to borrow billions from lenders at home and abroad in order to throw Keynesian pump-priming funds into the economy. When it failed, there is now a concerted effort to pretend that figure was something a kooky surrogate made up – the president himself had nothing to do with it.
Even gaffe-machine Joe Biden admits that "everyone got it wrong" on the unemployment numbers… everyone!
When you think about it, even if the president did have nothing to do with that figure (which is a patent falsehood) wouldn't that detachment from the perilous state of the economy in 2009 make it all the worse? I suppose, once the president "checked that box" and moved on to health care, he believed things would just work out. How's that for laissez-faire economics, folks?
Watch Bashir make a fool of himself below via MSNBC:
Have a tip we should know? tips@mediaite.com