Martin Bashir Addresses Backlash Over His Ann Romney Comment, Reveals His Brother Had Muscular Dystrophy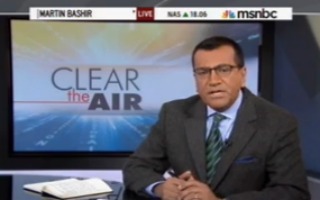 Wrapping up his show on Friday, MSNBC's Martin Bashir took some time to "Clear the Air" regarding comments he had recently made concerning Ann Romney's history of health issues.
Bashir noted that, during a segment on Wednesday's episode of his program, he had "wanted to acknowledge that Ann Romney has known some very real suffering in the form of breast cancer and multiple sclerosis," as well as ask his panel whether she could help "close the gender gap" between her husband and the President.
RELATED: Ann Romney, The Republican's Secret Weapon, Has Been Activated
He then played a clip of what he had said. We've transcribed his comment below:
We know that Ann Romney has herself had some suffering in the form of multiple sclerosis. She's also suffered with breast cancer. Do you think that he's intentionally using her to close the gender gap that Krystal [Ball], basically, makes the point about, which is that the President is so far ahead with women.
Bashir said that commentary has been taken out of context and is being interpreted as Bashing having said that Romney is "selling" his wife's past health issues for political gain. He explained what he had meant to say, condemned the "bastardization" of his original remark, and revealed that he has his own quite personal experience with multiple sclerosis:
Now, while I will accept that it was not the most elegant phrasing of a question, to suggest such a thing is a complete bastardization of both my words and my intentions. I didn't say it and I don't believe it. What I did say is that Mitt Romney's wife has known ill health and that she is, according to the candidate himself, his greatest asset. Both are true, neither is controversial.

And just one other thing: What those who chose to deliberately distort and misrepresent my words may not know is that I grew up alongside a brother who was born with muscular dystrophy. Tragically, the disease is fatal and it killed him. I'm the patron of a charity in the UK and a close friend of one here in the U.S., both working to beat muscular dystrophy. Whatever you may have heard, I do not regard physical and mental illness as a political football for the cheap scoring of points, because I know personally the pain that such conditions bring to individuals and their families. So thank you for watching. And please do hang on every word that we say and not what others may say about us.
Watch, via MSNBC:
Have a tip we should know? tips@mediaite.com