Martin Bashir Asks If It Takes A Family Member Being Killed For GOP Senators To Care About Gun Violence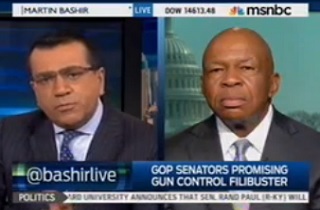 The power of personal experience to change Republican minds about political issues was highlighted, recently, when Sen. Rob Portman announced his two-year conversion to acceptance of marriage equality following his son's coming out. On Monday's Martin Bashir program, host Martin Bashir wondered if such a personal experience were the only way to get Republicans to drop their threat to block a vote on the gun regulations that Newtown families are begging them to vote on. Sadly, fairly recent history has already provided us with an answer to that question.
Speaking to Rep. Elijah Cummings (D-MD) about 14 Senate Republicans' threat to filibuster any new gun regulations, Bashir played a clip of Newtown parent David Wheeler trying to get people to internalize the tragedy at Sandy Hook Elementary School, saying of the shooting that "It is going to happen again. And every time, you know, it's somebody else's school, it's somebody else's town, it's somebody else's community. Until one day you wake up and it's not."
Martin began by noting that "nobody is suggesting that the law should only be defined and developed by the victims of crime," but also pointed out the overwhelming public support for universal background checks. "Are these senators simply too frightened of the NRA to do the people's bidding?" Bashir asked.
Rep. Cummings replied that "it's incredible to me that you can see a father like that, in so much pain, and even have the knowledge of 20 beautiful children being killed in their own classroom and then try to stop the debate."
He added that "the parents from Sandy Hook coming to Washington, hopefully, will have some effect. but that father's absolutely right. Martin, I never thought it would happen to me, but on a Friday at 12:00, it was 2 years ago, I got a call my nephew had been killed. Shot to death at 5:00 in the morning, and he's dead at 21 years old."
Rep. Cummings' nephew, Christopher Cummings, was shot and killed, and his roommate critically injured, on June 10, 2011, at his off-campus apartment near Old Dominion University in Norfolk, Virginia. His murder has not been solved.
"But Congressman," Bashir said, "is that what needs to happen to move these senators to stop threatening a filibuster? Is that really what needs to happen? That you need to have a member of your family killed in order for you to do what the American people want you to do?"
"I hope not," Rep. Cummings replied. "I don't wish this pain on anybody."
"None of us does," Martin exclaimed.
Bashir's question has been twisted, by the conservative media watchdog Newsbusters, into a "wish" that violence would befall a member of some GOP congressman's family. Clearly, that's not what Martin was saying. If there's a wish embedded in that segment, it's that Republican filibusterers had the capacity to perceive the existence of things beyond their own front doors, and not necessarily agree with these grieving parents, but have the courage to look hem in the eye and vote.
Sadly, Bashir's hypothetical has already been answered, because congressional Republicans have already had a family member felled by gun violence. Her name is Gabby Giffords, and her gunshot wound to the head was not enough to move her colleagues then, nor does it appear to be enough now.
Here's the clip, from MSNBC:
Follow Tommy Christopher (@TommyXtopher) on Twitter.
Have a tip we should know? tips@mediaite.com