Martin Bashir Challenges Christianity Of Conservative Cain Supporter Apostle Claver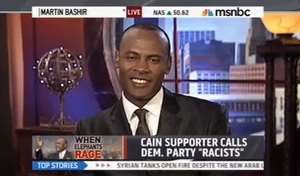 On Thursday afternoon's edition of MSNBC's Martin Bashir, Herman Cain warmup act and founder of RagingElephants.org Apostle Claver was taken to task over his racially incendiary comments. "What are you doing as a Christian minster stirring up racial conflict — posters that say that the GOP is the new black, speeches that use hateful talk about a Democratic plantation?" grilled host Martin Bashir "What does any of this to do with your calling as a Christian minister?"
RELATED: This Exists: 'GOP Is The New Black' Billboard Targets African-American Voters
After struggling to give a coherent response to Cain's sexual harassment imbroglio earlier in the interview, Claver defended his inflammatory comments by saying Jesus was aggressive too.
"The first thing that I always find entertaining is when others would like to define my Christianity or quote a certain passage out of the Bible as if they are a theological expert which, Mr. Bashir, you're not," explained Claver. "I do remember there is a passage in the Bible where the Lord Jesus went into the temple by himself and whipped some people out of the temple. There is New and Old Testament examples where sometimes a little force is necessary and the kingdom has to be taken by force. As far as hateful speech is concerned, what I find disturbing when when it comes from the left such as like Professor Cornel West who a few days ago threatened violence on the Bill Maher show against a black conservative."
Bashir disputed Claver's account of West's actions, "Sir, I cannot allow you to assert that because I watched that broadcast and those individuals shook hands as the process of the conversation continued and there was no attempt deliberately or otherwise to attack anyone."
Following Bashir's defense of West, Claver paused awkwardly, unsure of what to say next — a moment which pretty much encapsulated this excruciatingly bizarre segment.
Update: Newsbusters' Noel Sheppard notes that Claver fit in a last minute zinger at Bashir, saying "I have made it to the big time – I am on MSDNC. I love it."
Watch Bashir question Claver about his comments about the Democratic Party and race below via MSNBC:
Have a tip we should know? tips@mediaite.com