Martin Bashir On Murdoch: 'A Media Baron…Capable Of Intimidating Governments, Swinging Elections'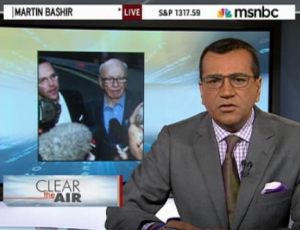 In a blistering indictment of News Corp. chairman Rupert Murdoch, MSNBC's Martin Bashir described the owner of rival Fox News Channel as an "unelected media baron" who "was capable of intimidating governments and even swinging elections." The comments, in Bashir's end-of-show "Clear the Air" segment, which is a broadcast version of an Op-Ed column, described Murdoch's rise to power in Great Britain, Bashir's home. "How did Mr. Murdoch achieve such omnipotence? The answer? Brilliantly, methodically, aggressively and slowly."
Bashir, who said the UK phone hacking scandal that brought down News of the World, and today's collapse of Murdoch's efforts to take complete control of British pay TV company BSkyB represent "nothing short of a catastrophic turnaround" for Murdoch, who just a matter of weeks ago hosted the most powerful British politicians at his annual summer party, where Bashir said "every guest lined up to kiss his ring." Bashir described a media mogul whose accumulation of power had put him beyond the reach of government:
By the time politicians realized that one media baron had become so powerful that he was capable of intimidating governments and even swinging elections, well they were simply too powerless to do anything about it.

Mr. Murdoch is a disturbing example of what can happen when government falls on its knees and gets out of the way. An unelected media baron begins to dominate public discourse even to the point of determining the outcome of a general election.

Let's hope that Mr. Murdoch is never allowed to do the same thing in this country.
Watch it here, from MSNBC:
Have a tip we should know? tips@mediaite.com