Martin Bashir Panel Asks Why O'Reilly Not Happy His 'Puerile Racism Alive and Well'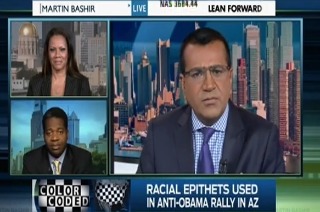 A panel of guests on MSNBC's Martin Bashir tackled what the host called Fox News Channel host Bill O'Reilly's "puerile racism" on Tuesday. They chided the Fox host for faulting the media for implicitly perpetuating the notion that racial discrimination in the United States is on the rise by refusing to cover incidents of black-on-white crime in the same way they cover white-on-black crime.

"During yet another mad Monday segment, Mr. O'Reilly decided to go beyond blaming African-American communities for every urban failing and instead added a new attack on the media for failing to cover both sides when it comes to of racial violence," Bashir began.
Bashir played a clip of O'Reilly scolding the news media for failing to cover a story about a group of school-aged African-Americans attacking a white student with the same fervor he alleged they would if the racial roles were reversed.
"All we've had for the last three months has been African-Americans portrayed as criminals, thugs, delinquents," Bashir said.
RELATED: O'Reilly Faults Black Leaders and 'Cowardly' Media for Racial Divide
"Why are these people so angry?" the host asked MSNBC contributor Goldie Taylor. "We've had the re-emergence of [Donald] Trump and his 'birtherism' nonsense, we've had video this week of a rodeo clown dressed as the president, we've had racial epithets thrown at the president in Arizona. Aren't they satisfied their puerile racism is still alive and well in America?"
Taylor said she could not explain O'Reilly's reaction but for his "cultural lens" which allows him to ignore the racism around him. "Some people may call that 'privilege,'" Taylor submitted. "I do."
"I think that Bill O'Reilly does not have to see some of the injustices that are perpetrated across this country, especially in terms of communities of color, or poor or distressed — economically distressed communities," Taylor added. "He doesn't have to see them because he doesn't have to live them.
Bashir said that, if "untruths" like those spread by O'Reilly are not confronted, "people end up believing that Trayvon Martin chased George Zimmerman, or Trayvon Martin provoked this incident."
Watch the clip below via MSNBC:
> >Follow Noah Rothman (@NoahCRothman) on Twitter
Have a tip we should know? tips@mediaite.com