Martin Bashir's MSNBC Panel Blasts Newt Gingrich As Tone-Deaf, Adulterous And 'Vindictive S.O.B.'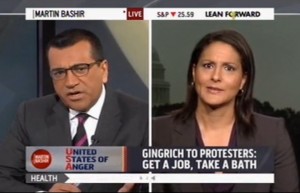 Monday afternoon, during his "United States of Anger" segment, Martin Bashir led Karen Finney and William Cohen in a heated hammering of Republican front-runner Newt Gingrich, set off by his telling Occupy protesters to take a bath. The trio pulled no punches, calling out Gingrich for everything from his adulterous past to his perceived thin skin.
It's hard to figure out who here hates Gingrich the most. Finney seemed to take glee in spitting vinegar at Gingrich any chance she was given. Bashir took some digs in a more reserved, but pointed, manner. And Cohen appeared to wait until Bashir reacted positively to Finney's bashing of Gingrich before he unleashed some vitriol of his own. Some of the zingers from the panel:
Finney:
-"He is a mean, vindictive S.O.B. who does not really care about anything other than power."
-She also said that Gingrich has "thin skin" and, because of that, "he's going to self-destruct."
Bashir:
-Referred to Gingrich as a "serial adulterer" who keeps moralizing (and enjoys it).
Cohen:
-"He's incredibly tone deaf," and dabbling in self-destructive behavior.
At the end of the show, Bashir heaped on a final dollop of anti-Gingrich sentiment for his "take a bath" comment:
"If anyone's dirty, it's Newt Gingrich. A man whose personal morality has been drawn from the sewer. A man who spreads poison through the political process."
Bashir then poetically ended his show saying that it's easier to clean one's body than it is to clean the soul.
Just to recap, Gingrich told protesters to take a bath. It's hard to ascertain why Bashir took this so personally.
As for Gingrich's response? There actually was none, as he wasn't in the studio to address the commentary. This isn't meant to be a defense of the candidate, by any means — it's just a problem with the practice: three people ganging up on a man when he isn't even there seems a little…unfair. They could've at least trotted out some random pro-Gingrich talking head to give his side of the argument.
Lean forward, and enjoy the spirited bashing of Newt Gingrich below, courtesy of MSNBC:
Have a tip we should know? tips@mediaite.com