English Writer Martin Lewis To Bill Maher: Rupert Murdoch's Ideology Is "Money, Power, Influence"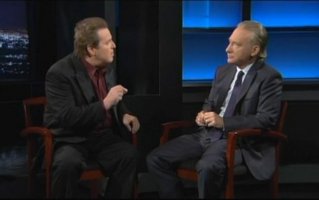 In addition to Republican presidential pledges, tonight on Real Time Bill Maher re-tackled another subject he addressed last week: the woes of Rupert Murdoch's News Corp. To help him grasp just what kind of power Murdoch's built up over the years, Maher invited British writer/producer/marketing expert Martin Lewis on the program. Lewis has seen Murdoch's most infamous (and now nonexistent) tabloid, News of the World, up close and personal, and from the sound of it, his opinion of the media mogul didn't stray far from Maher's.
Lewis said Murdoch's publications simply "had the nerve to do" what no one else would…and that wasn't quite illegal, i.e. naked women in newspaper and phone hacking. And while we wouldn't quite put Fox News in that same category, as both Maher and Lewis seemed willing to do, the reach and influence of Murdoch's media empire was and is undeniable, and seemingly across the board, bold (sometimes to a terrible fault) decisions and personalities helped make it so.
Maher, unsurprisingly, took things a step further. He described the editorial process of a Murdoch media entity as: "creat[ing] some bogeyman so the bad guy isn't the rich corporations who are really fucking them," even calling this tactic "poison in the minds of the common man." Oh, and according to Maher, Murdoch's also an evil genus. And according to Lewis (and Maher, to an extent), Murdoch isn't necessarily a right-winger, but he does have a particular ideology: "Money, power, influence." Ideology or not, Murdoch certainly built up vast reservoirs of all three throughout his career…only to potentially lose some of that money, power, and influence now (and with reason). Video below, via HBO.
Have a tip we should know? tips@mediaite.com