Mary Matalin Battles Jennifer Granholm : 'You Think Only Women Know How to Fix' This Country?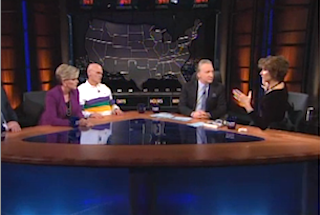 With two "very powerful women in politics" on his panel Friday night, Bill Maher decided to bring up the issue of women in government and what the U.S. should do, if anything, to encourage more female candidates. The host's seemingly innocuous question led to a spirited debate between Republican Mary Matalin and Democrat Jennifer Granholm.
Maher began by remarking how the media tends to focus on female candidates' appearance far more than they do with men. "They talked about Hillary's cleavage once," he said. "They don't talk about Chris Christie's cleavage." He then asked the panel to respond to recent comments from Fox News' Brit Hume about the "feminized atmosphere" that he believes causes Chris Christie to be viewed as a "bully."
Responding to the comments by Hume and similar ones by Tucker Carlson, Granholm said, "This is why the Republican Party is shrinking, because they are anti-women!" She added, "The only way you're going to see compromise in Congress, the only way you're going to see some sort of cooperation is to have more women in the room."
To everyone's surprise, except perhaps her husband James Carville, Matalin disagreed. "Why do you think only women know how to fix this kind of stuff?" she asked. "And they don't."
"Don't you think it would be a fairer country if there were more people who looked like America representing Amercia?" Granholm asked Matalin in return.
Watch video below, via HBO:
[photo via screengrab]
— —
>> Follow Matt Wilstein (@TheMattWilstein) on Twitter
Have a tip we should know? tips@mediaite.com