Matt Lauer Makes Obama Campaign Operative Answer For President Pledging A Positive Campaign In 2008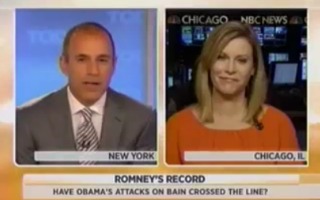 On NBC's Today Show on Tuesday, host Matt Lauer interviewed Stephanie Cutter, President Barack Obama's deputy campaign manager, and asked her to compare the President's 2008 pledge to run a positive campaign to 2012's negative campaign against Mitt Romney. Cutter replied that having a conversation about how Romney's choices while at Bain Capital informs his ability to lead and the decisions he would make as president are critical for voters and legitimate areas of discussion.

RELATED: Stephanie Cutter Clarifies Her Comment For Wolf Blitzer: Romney Is A Liar, Not A Felon
"If you think about what you're candidate is out there on the campaign trail saying and compare it to what he was saying as a candidate four years ago about changing the atmosphere in Washington and bringing hope to people who are having a difficult time finding hope, are you proud of the message he is out there delivering," asked Lauer.
Cutter replied that Obama was talking about moving Washington forward "do what we need to do for a strong middle class and sustained economic growth."
"As of late it's been an awful lot about Mitt Romney and his offshore accounts and his time at Bain," Lauer interjected.
"The President talked yesterday about the need to bring jobs back to America instead of outsourcing them overseas," said Cutter. "That's a legitimate discussion to have in this campaign."
Lauer asked if Cutter would characterize the past week of Obama's campaign as positive or negative.
"I think the President is playing out the choice," Cutter replied. "Elections are about choices."
Lauer then highlighted Obama's words from 2008 when he said, "What you won't hear from this campaign or this party is the kind of politics… that sees our opponents not as competitors to challenge but enemies to demonize."
Lauer also quoted Obama in 2008 accepting the Democratic Party's nomination for president when he said, "If you don't have a record to run on, then you paint your opponent as someone people should run from."
"You don't feel that President Obama in the last week or so has done just that," Lauer asked.
"Matt, I think that in talking about Mitt Romney's record – and, you know, we're happy to talk about the President's record. The President is out there every single day doing that. But if we're talking about Mitt Romney's record, that's a legitimate discussion." Cutter said that Romney's taxes and his tenure at Bain are at the heart of Romney's claim to the presidency – but the gap in the record at Bain and his offshore accounts shed doubt on his ability to lead.
"Where Romney invests his money – in a Swiss bank account, in offshore tax havens, in shell corporations in Bermuda – will affect the types of decisions he makes," Cutter concluded.
Watch the segment below via NBC News:
> >Follow Noah Rothman (@Noah_C_Rothman) on Twitter
Have a tip we should know? tips@mediaite.com