Matt Lauer Pushes Trump on His Big Fancy Plan to Beat ISIS (Asking Other People For Help)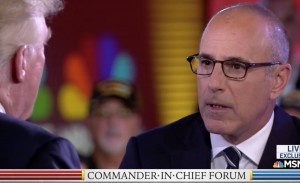 During the Commander in Chief Forum on NBC Wednesday night, moderator Matt Lauer hit Donald Trump with an inconvenient truth about his campaign claims that have recently become increasingly clear.
Through the primary season, the real estate mogul turned GOP nominee touted his "secret plan" to defeat the Islamic State and its rising threat around the globe. It was so super duper top secret that he refused to tell a single soul, citing instead his penchant for being unpredictable. But, it was along the lines of his oft-cited "I alone can fix it," claims.
But recently, he has claimed that he would give his team of generals "special instruction" to devise a 30-day plan to eradicate the threat from ISIS. "They will have 30 days to submit to the Oval Office a plan for soundly and quickly defeating ISIS. We have no choice," he told ABC News.
So logically, Lauer's question was, "So, is the plan you've been hiding this whole time asking someone else for their plan?"
Trump simply offered, "No. But when I do come up with a plan that I like, and that perhaps agrees with mine — or maybe doesn't — I may love what the generals come back with — "
"But you have your own plan?" Lauer sought to clarify.
"I have a plan, but I don't wanna be, look — I have a very substantial chance of winning," he stammered, doing his best Fred Armisen (as Nicholas Fehn) impression from SNL.
Watch the above video from MSNBC's Commander in Chief Forum.
—
J.D. Durkin (@jiveDurkey) is an editorial producer and columnist at Mediaite.
[image via screengrab]
This is an opinion piece. The views expressed in this article are those of just the author.