Matt Lauer Scolds Robert Gibbs Over Big Bird Ad: Is This A Campaign With 'Ideas And Solutions On Its Side?'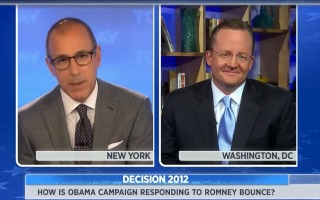 Former White House Press Secretary Robert Gibbs appeared on NBC's Today on Wednesday where anchor Matt Lauer scolded him and President Barack Obama's campaign for introducing Big Bird into the debate as a serious topic. After asking if the ad was just an attempt by the campaign to seek attention, Lauer asked if there were plans to drop the ad as Sesame Street's creators have requested. Gibbs said he was not aware of any plans to drop or amend that ad.

RELATED: Feather Underground: 'Evil Genius' Big Bird Stars In Obama Campaign Ad
Gibbs told Lauer that Mitt Romney has become more fluid on his positions as the general election approaches. Gibbs claims Romney flip flopped on abortion rights when he told the Des Moines Register that he is currently not advocating any change in policy relating to abortion.
"It's one more thing that we've seen from Mitt Romney that he's trying to have two different positions as we get closer to voting," said Gibbs.
Lauer took the opportunity to ask why President Obama's campaign has eschewed "real issues" following last week's debate.
"I'm glad you say that it's about real issues because, I have to be honest with you, I personally was a bit surprised that the campaign released this Big Bird ad yesterday," said Lauer. "Is that the kind of ad that a campaign runs when it feels that it has ideas and solutions on its side, or is that the kind of ad a campaign releases when it simply wants to get attention?"
"The ad and the president have an important point on this," said Gibbs. "Mitt Romney took to the debate and said 'I'm going to get tough by ending Downton Abby and going to war with Sesame Street when he's going to let Wall Street off the hook."
"That's certainly part of a very real issue," Gibbs added.
"I find it hard to believe I'm asking this question this morning, but will the campaign take Big Bird out of its ads," Lauer asked.
"I don't know of any plans to change that ad," said Gibbs.
Watch the clip below via NBC:
> >Follow Noah Rothman (@Noah_C_Rothman) on Twitter
Have a tip we should know? tips@mediaite.com