Matt Lauer Speaks Out About Ann Curry's Exit From Today, Hits NBC For Handling Ordeal Badly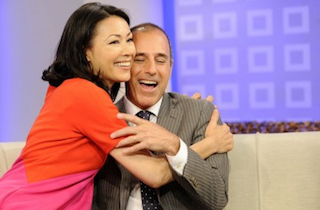 After many months of rumors and criticism, Matt Lauer is speaking out about Ann Curry's exit from Today, the show's struggles, and contacting Katie Couric about returning. In an interview with Howard Kurtz, Lauer said the network didn't handle Curry's exit very well. It was "a disaster waiting to happen."
"I don't think the show and the network handled the transition well. You don't have to be Einstein to know that," Lauer said. "It clearly did not help us. We were seen as a family, and we didn't handle a family matter well."
Noting the criticism the show was getting, Lauer further noted that "some of it was self-inflicted and perhaps deserved."
Lauer, himself, was the subject of much backlash, being blamed for the pushing Curry out. So much so, that he apparently offered to step aside. NBC executive Steve Burke recalled Lauer telling him, "If you think the show's better off without me, let me know, and I'll get out of the way." Burke told Lauer he was "the best person who's ever done this."
Before Curry even started the job, though, he contacted Couric about returning to Today — and she was interested. As we know, that never ended up working out:
Their plan was to sell the daytime program to NBC and feature Couric on Today during the year and a half until the show could get on the air and Lauer would be contractually free to join her. Couric could be a Today co-host, perhaps as part of a troika with Curry, who had already been offered the job. NBC executives debated the plan, but Burke rejected it after concluding that the syndicated show would be too expensive to produce. Couric teamed up with ABC instead.
Kurtz's story goes into detail about some conversations Lauer had with Curry, as well as more background about the network's decisions, as well as the current ratings fight versus Good Morning America. In the end, Lauer said he's in no position to complain.
"I'm not going to whine or get depressed. Who's going to feel sorry for me? Nobody," he said. "I am the luckiest guy I know."
Read the full story here.
Have a tip we should know? tips@mediaite.com