Matt Lauer Speaks To Wife Of Soldier Accused Of Shooting Afghan Civilians: 'It's Not Him'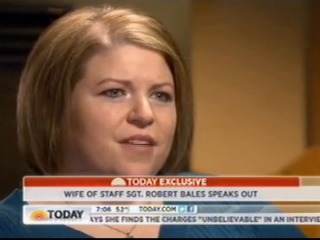 The Today Show's Matt Lauer sat down with Karilyn Bales, wife of the soldier alleged to have opened fire on Afghan civilians, to discover more about the man making headlines around the world.
Mrs. Bales recalled first hearing about the news that an American soldier had opened fire on civilians. "I probably prayed and prayed that my husband wasn't involved," she said. "And then I received a phone call from the army saying that they would like to come out and talk to me. And I was relieved, because when you get a phone call, you know that your soldier is not deceased."
"They held my hand," she continued, "and they just said that perhaps, you know, they thought that he had left the base, and gone out and perhaps killed the Afghan civilians, and that was really the only sentence, and I just started crying." When asked what she "believed" about her husband's involvement, Bales told Lauer that "I just don't think he was involved," adding that "I don't know enough information. This is not him. It's not him."
Later, Bales emphasized her husband's work with children, when Lauer pointed out that there had been several Afghan children among his victims. "It's unbelievable to me," she responded. "I have no idea what happened, but he would not — he loves children and he would not do that."
RELATED: Glenn Greenwald Fails To Convince A Mocking Bill Maher That Afghanistan Should Try U.S. Soldier
Mrs. Bales said that, while speaking with him on the phone after the shooting, she noticed that her husband seemed confused about his whereabouts and "why he was there."
"Will there come a time when you get to see Bob, where you will look him straight in the eye and ask him [what happened]?" asked Lauer.
"Probably," she replied, later adding that "I don't think I'll have to ask him, is what I mean. I think he'll tell me what happened. From his point of view."
She added that she no longer believes everything she reads, and is waiting to see "what's true" regarding her husband and his actions overseas.
Have a look, via NBC:
Have a tip we should know? tips@mediaite.com