Matt Lauer's George W. Bush Interview Gets Lower Ratings Than Everything Except 90210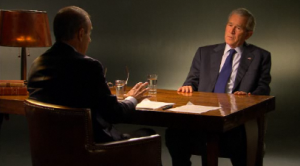 Last night on network TV, House finally relented and agreed to hire a female doctor to the team, Barney got an important clue in his quest to find his father, Jeff and Audrey got Jeff's lesbian friend to be their surrogate mother and people continued to show that they are capable of dancing alongside stars! Oh, and on NBC, George W. Bush went blah blah blah to Matt Lauer about his presidency and whatnot. Judging by last night's ratings, many more people cared about dancing and House.
TV by the Numbers is reporting that NBC's special hour-long interview got the lowest network ratings of any show in the 8 o'clock hour other that 90210 (apparently the only thing people like less than 00's nostalgia is 90's nostalgia). The interview even did worse than all of this season's episodes of Chuck, a show that usually airs in that timeslot and is well-regarded but not at all a ratings blockbuster.
From TV by the Numbers:
"NBC's Monday woes continue to grow as the Matt Lauer interview of George W. Bush scored just a 1.7 adults 18-49 rating, and its later shows tumbled. The special Matt Lauer Reports finished with lower adults 18-49 ratings than all episodes of Chuck this season. The Event fell 15% (vs. 10/25) to a series low 1.7 adults 18-49 rating, and Chase was down 6% (vs. 10/25) to just a 1.2 rating, which was also a series low."
Of course, one could make the obvious argument about the uneducated and uninvolved masses but, really, can you blame them? We all got quite a bit of Bush during the last decade and, besides, that was totally like the first good episode of How I Met Your Mother in a season and a half! It had callbacks to classic episodes, Bob Odenkirk and Kyle MacLachlan, and even a likable Ted storyline. Although I still don't like that Zoe character. I mean, could she be any more shrill? Jeez!
Um…yeah. I didn't watch the interview last night either.
Have a tip we should know? tips@mediaite.com