Matt Lewis And S.E. Cupp Defend Newt Gingrich And Rick Santorum Against Bigotry Charge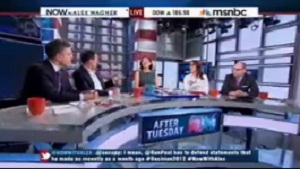 In a segment partially pegged to Rick Santorum's disputed remarks in Iowa Sunday, in which he's alleged to have said he didn't "want to make black people's lives better" with "somebody else's money," Now with Alex Wagner panelists Matt Lewis of The Daily Caller and GBTV's S.E. Cupp defended Santorum and Newt Gingrich against charges of bigotry and homophobia. Even giving Santorum a pass on those remarks, though, my colleagues' respective defenses don't hold water.
United Republic's Jimmy Williams started off on Santorum, saying "I find it utterly fascinating when white people think they know how black people think…When men think they can tell women what to do with their bodies," later declaring that "he's a homophobe and bigot."
S.E. responded, "This is taken completely out of context. Rick Santorum talks about social economics all the time," and later seems to concede that Santorum was talking about black people (although I am 99% sure he wasn't). When host Alex Wagner said "In that comment he's singling out black folks in particular," S.E. interjected, "In that two-second sound bite."
She also claimed that Santorum "Talks about how two-person families are better economically for the country."
I suppose she's technically correct, in that Santorum only believes in "two-person" unions between people he considers to be full human beings. Santorum's argument isn't an economic one, and his virulent anti-gay rhetoric certainly qualifies him as a homophobe. As to whether he's a "bigot," I'm pretty sure I didn't hear him reference black people during his remarks Sunday, but I'm damn sure I heard his revealing Freudian slip at a Republican debate, in which he referred to Latinos as "the illegal vote."
Salon's Steve Kornacki then turned his attention to Newt Gingrich, who has largely been given a pass for the inherent racism embedded in his "no toilet left behind" education plan for poor urban 9 year-olds. "Think of Newt Gingrich two weeks ago talking about, 'Let's go into the inner city, where people don't understand what work is."
Kornacki actually lets Gingrich off rather easily. In addition to singling out kids from "schools in poor neighborhoods," Gingrich also said that these urban poor kids had "no habit of showing up on Monday and staying all day or the concept of  'I do this and you give me cash,' unless it's illegal," a dog-whistle so loud, even cats can hear it.
Matt Lewis ignored Gingrich's urban-specific servitude initiative, and said, "Newt was — you may disagree with whether or not allowing kids to be janitors, it sounds absurd, but his point was, folks, let's get people involved in the work force and maybe give them a leg up so that they can be successful. You may disagree with the tactic but I think it's actually a compassionate thing to do."
He's right about one thing, it is absurd to think that scrubbing toilets somehow helps a nine year-old get a "leg up," or that the answer to poverty is to fire adults and replace them with cheap child labor, but he doesn't get around to explaining why these "advantages" only apply to urban poor kids. The answer is, of course, that none of those people's kids are ever going to vote for him anyway.
The thing is, Matt and S.E. are, to varying degrees, friends of mine for whom I have tremendous respect. They're both smarter than the bill of goods they've apparently purchased from Rick Santorum and Newt Gingrich. In Matt's case, I think it's his tendency toward low-temperature debate that played a role in his defense of Gingrich.
In any case, it was good to see these things discussed, as the mainstream media has been seriously derelict in doing so in a meaningful way.
Here's the clip, from MSNBC:
(h/t C&L)
Have a tip we should know? tips@mediaite.com