Matthew Dowd: Romney Getting Attacked By Obama Is 'Karma' For When He Bashed GOP Rivals
Matthew Dowd: Romney Getting Attacked By Obama Is 'Karma'...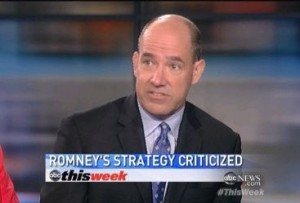 The panel on This Week today argued over whether Mitt Romney should release more years of tax returns in order to disclose his finances for the past few years. Mary Matalin said the whole thing is a distraction, but Matthew Dowd told her if she were running the campaign, she would disclose the information. He also thought of Obama's powerful attacks on Romney as "karma" for when Romney launched similarly strong attacks on his Republican primary rivals.
RELATED: The Bain Event: Watch All 5 Of Mitt Romney's Bain Storm Interviews
Matalin said that people who worked with Romney at Bain have made it clear Romney was not in any managerial position when he took his leave of absence. However, George Stephanopoulos noted that the fact that Romney's name was on filings to begin with rebuts the notion that he had absolutely zero involvement, not to mention "attendance at board meetings." Matalin did not directly respond to this, but she did refer to the outsourcing debate going on as a complete distraction from the campaign.
George Will interjected to bring up the 23 years of tax returns that Romney gave to the McCain campaign when he was being vetted for the VP slot in 2008. Matalin retorted by asking if producing 23 years of returns this time around would create a single job. Dowd called Matalin out by saying if she was running the Romney campaign, she would want to disclose the information, and saying Mitt Romney kind of had the attacks on his record coming.
"This is like karma to me. Mitt Romney did the same exact thing that Barack Obama's doing to him. He did it to Newt Gingrich, he's saying the exact same thing Mitt Romney is saying. 'You're taking my record out of context. I can't believe you're saying–' He did the same thing to Rick Santorum. So now, all of a sudden he's running in a general election against a very professional group of people, against a very astute politician, against a Chicago machine, who's doing the same thing he did, and now he's sitting there saying, 'I can't believe you're doing this.'"
Watch the video below, courtesy of ABC:
Have a tip we should know? tips@mediaite.com
Josh Feldman - Senior Editor