Matthew McConaughey Wins Over Conservative Fans by Thanking God at Oscars
McConaughey Wins Over Conservative Fans by Thanking God at Oscars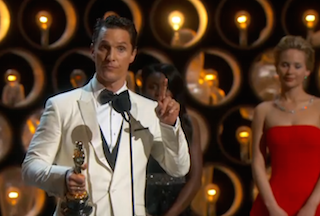 The conservative media, which tends not to look too fondly on big Hollywood events like the Academy Awards, found at least one thing to love last night in Matthew McConaughey's Best Actor acceptance speech. The star, who won for playing a homophobic AIDS patient in Dallas Buyers Club, made a point to thank God shortly after taking the stage, saying, "He's graced my life with opportunities that I know are not of my hand or any other human hand."
Fox News' online Oscar coverage said McConaughey was "one of the first of the night" to thank God for his win, highlight the praise (and some detraction) he received on social media for doing so. The site did not mention the religious shout-out from 20 Feet From Stardom's Darlene Love, nor the moment that Bette Midler sang the line "Thank God for you" at the end of "Wind Beneath My Wings."
Michelle Malkin's Twitchy was one of the first sites to jump on the Twitter reaction to McConaughey's speech, with some fans questioning the tepid level of applause he received from the audience for doing so. As The New York Times' Matt Apuzzo put it:
Hollywood awkward silence for God but loves loves loves the Dazed and Confused sign off.

— Matt Apuzzo (@mattapuzzo) March 3, 2014
Conservative commentator Katie Pavlich weighed in on TownHall.com, applauding McConaughey for putting God above his family in the speech and contrasting him with Blue Jasmine's Cate Blanchett, who "thanked pervert Woody Allen for her Oscar win."
On Twitter, the actor received praise from Fox News regulars like Monica Crowley:
ICYMI Matthew McConaughey's lovely Oscar acceptance speech, in which he–yes—thanked God. First. –> http://t.co/50CSnlWyTZ

— Monica Crowley (@MonicaCrowley) March 3, 2014
…and, in her own way, Ann Coulter:
Bill Maher is going to be B*LLSH*T about Matthew McConaughey's acceptance speech.

— Ann Coulter (@AnnCoulter) March 3, 2014
THERE'S NEVER BEEN AN OSCAR'S SPEECH LIKE THIS!

— Ann Coulter (@AnnCoulter) March 3, 2014
Oscar's committee thinking, "Sh*t! I shouldn't have voted for McConaughey with all this God stuff." But 10 mill Christians will see DBC now.

— Ann Coulter (@AnnCoulter) March 3, 2014
Not to be outdone, Breitbart and The Washington Times each published similar articles highlighting the actor's comments about God. And conservative media watchdog Newsbusters wondered, "Let's see if this is something the networks air in their Oscar reviews: a thank you to God."
Final numbers are still coming in, but so far it looks like this year's Oscar telecast is slightly up from last year's show, "thanks in large part to increased interest in Texas" according to Variety. Perhaps they knew a big win for one of their own was coming near the end of the night (and were willing to sit through three hours of Ellen DeGeneres and other godless Hollywood liberals to get there). The hometown boy even got a congratulatory message from his governor, Rick Perry, this morning:
Texas boy counting his blessings. http://t.co/O6fbEN4QrF

— Rick Perry (@GovernorPerry) March 3, 2014
But after all that, you have to wonder: what would all of McConaughey's new religious conservative fans think of his character Rust Cohle on HBO's True Detective, who had this to say about religious people on the show's third episode?
"If the only thing keeping a person decent is the expectation of divine reward then, brother, that person is a piece of shit. And I'd like to get as many of them out in the open as possible. You gotta get together and tell yourself stories that violate every law of the universe just to get through the goddamn day? What's that say about your reality?"
Watch McConaughey's full acceptance speech video below, via ABC:
[photo via screengrab]
— —
>> Follow Matt Wilstein (@TheMattWilstein) on Twitter
Have a tip we should know? tips@mediaite.com