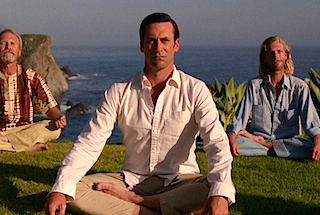 Warning: Spoilers for the series finale of Mad Men below.
As a writer on the final season of The Sopranos, Matthew Weiner helped oversee the most contentious series finale of all time. The final moments of Weiner's Mad Men has not caused nearly as much consternation, but it has invited some level of speculation about what exactly happened between Don Draper's meditative enlightenment and the creation of Coca-Cola's classic "Hilltop" ad.
In an interview with The New York Times, actor Jon Hamm said his take is that, "the next day, [Draper] wakes up in this beautiful place, and has this serene moment of understanding, and realizes who he is. And who he is, is an advertising man. And so, this thing comes to him." In other words, Draper finally returns to McCann Erickson and creates the Coke ad that plays in its entirety before the episode ends.
Now, in what Weiner has said will be his only interview — for now, at least — regarding the finale, he has more or less corroborated that account. Speaking to writer A.M. Homes at the New York Public Library on Wednesday, the showrunner reportedly confirmed that Draper did create the ad.
"I have never been clear, and I have always been able to live with ambiguities," Weiner said, remaining somewhat cryptic in his remarks. "In the abstract, I did think, why not end this show with the greatest commercial ever made? In terms of what it means to people and everything, I am not ambiguity for ambiguity's sake. But it was nice to have your cake and eat it too, in terms of what is advertising, who is Don and what is that thing?"
Weiner also addressed the most common criticism of the show's ending — that it was a "cynical" look at how the spiritual awakening of the 1960s affected the way products were sold to the masses:
"I did hear rumblings of people talking about the ad being corny. It's a little bit disturbing to me, that cynicism. I'm not saying advertising's not corny, but I'm saying that the people who find that ad corny, they're probably experiencing a lot of life that way, and they're missing out on something. Five years before that, black people and white people couldn't even be in an ad together! And the idea that someone in an enlightened state might have created something that's very pure — yeah, there's soda in there with a good feeling, but that ad to me is the best ad ever made, and it comes from a very good place. … That ad in particular is so much of its time, so beautiful and, I don't think, as — I don't know what the word is — villainous as the snark of today."
There are a lot more details about the interview with Weiner at hollywoodreporter.com.
Watch the final scene below, via AMC:
[Photo via screengrab]
— —
>> Follow Matt Wilstein (@TheMattWilstein) on Twitter
Have a tip we should know? tips@mediaite.com