Matthews To Panel: 2012 Election Winner Will Be 'The One Who… Fights Dirty To Bury The Other Guy'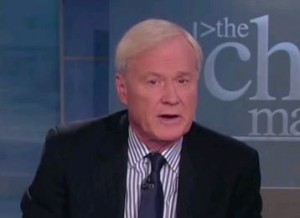 It's only a matter of time before this presidential race turns nasty. And while everyone in the media has their popcorn makers ready for the inevitable ad war, both campaigns have, so far, acted as deterrents for some of the more highly charged rhetoric in the campaign. Mitt Romney publicly shut down the idea that he would capitalize on Reverend Jeremiah Wright to attack President Obama. Chris Matthews predicted on his show today that the likely 2012 winner will the the candidate who goes further in getting negative against their opponent.
RELATED: Jeb Bush Warns Romney Of 'Most Negative Campaign In Modern Times,' Addresses VP Rumors
For the moment, Romney has put his foot down with the Reverend Wright ads, despite objections from conservatives. John Heilemann took a psychoanalytic view of the GOP's struggles, labeling the outside groups and Super PACs as the id of the Republican party being tamed by the superego of the Romney campaign.
Chicago Tribune columnist Clarence Page suspected the Wright ads would not really be that effective in the general election, because most independents wouldn't necessarily care. But more importantly, it's old news. As the great philosopher Fergie once put it, "I'm so three thousand and eight, you're so two thousand and late."
Matthews wondered if the Obama team is worried about Republicans playing the "foreign" card. Kathleen Parker said that a campaign with a Mormon at the head of the ticket isn't going to play that card. And as for the Wright attacks, Parker said that rather than focusing on something so unnecessary and trivial, Obama actually has a record to defend that Republicans can raise legitimate issues with. Liz Marlantes added that most voters, even ones who disagree with Obama's politics, don't see him as an extreme radical or a socialist, which is one of the ways the president is being framed.
RELATED: GOP PAC Spokesman Schools Chris Matthews On True Impact Of Money In Politics
Matthews concluded the segment with one of his patented "Matthews Meter" polls (which is conducted by the scientific method of Chris Matthews pulling people over in the hallway and shouting questions at them), finding that most of the pundits he spoke to think Romney can only hurt himself by releasing ads with racially charged material.
Watch the video below, courtesy of NBC:
Have a tip we should know? tips@mediaite.com
Josh Feldman - Senior Editor