Matthews: 'All We Do Is Kill Arabs On International Television,' 'That Might Have Something To Do With Jihad'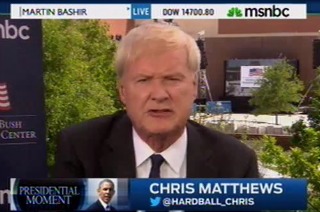 MSNBC host Chris Matthews noted on Thursday that Syrian President Bashar al Assad, who has been accused by the White House of using chemical weapons, has few options available to him to extricate himself from his country's ongoing civil war. Matthews insisted that he opposes intervention into Syria and said that America spends too much of its energy intervening in Arab nations. "It's all we do is kill Arabs on international television," he opined. "I think that might have something to do with Jihad."

Matthews went on Thursday about how wrongheaded it would be for the United States to intervene in the Syrian conflict, saying that it would likely closely resemble the conflict in Iraq. He added that locals, as in the case of Iraq, are hard to trust when it comes to human rights issues.
"We watched this gory hanging, this absurd hanging of Saddam Hussein while these thugs went about this thing on television," Matthews declared. "Because of us. We gave them the power to that."
He lamented that America handed Iraqi authorities the power to make "big time moral decisions" like declaring Hussein an enemy of the state and executing him.
RELATED: The Five Rails Against Boston Bombing Suspect Having Received Welfare: 'Taxpayer-Funded Jihad'
Matthews confessed he is, as a "Vietnam guy," often suspicious of intervention in foreign conflicts. "As horrible as that may be," he added.
"As long as Syrians are fighting Syrians, that's better than us fighting Syrians," Matthews continued. "If we don't stop killing Arabs on international television one of these days. It's all we do is kill Arabs on international television."
"I think that might have something to do with Jihad," he concluded. "Just guessing."
Watch the clip below via MSNBC:
> >Follow Noah Rothman (@NoahCRothman) on Twitter
Have a tip we should know? tips@mediaite.com