Matthews And Gingrich Square Off Over Race In The 2012 Presidential Campaign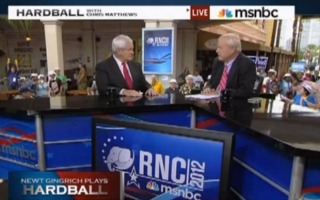 For the first time since May, former House Speaker Newt Gingrich and MSNBC host Chris Matthews squared off live. This time, as the general election has entered its hottest phase, the conversation went from jovial and collegial to antagonistic.

Matthews opened by asking about Mitt Romney's "birther" joke from last week. Before closing his question, Matthews accused Gingrich of engaging in offensive rhetoric himself on the campaign trail, saying that Gingrich had accused President Barack Obama of being a "food stamp president." Matthews asked Gingrich if he regretted using "ethnic politics" in his race to become the GOP's presidential nominee.
"I find your assumption so absurd that it's hard to answer your question," Gingrich replied. He went on to say that Romney's "birther" reference was "part of the common culture" and was clearly not malicious.
"Mitt was making, by any reasonable standard, he was making what is called 'a joke," said Gingrich.
"First one he's ever told in his life," Matthews fired back.
Matthews played the offending clip of Romney telling an audience in his home state of Michigan that "no one ever asked to see my birth certificate."
Upon returning from the clip, Matthews said that he had received many emails from African Americans who found Romney's "birther" joke to be racially insensitive.
Gingrich replied to that by saying , in the preceding segment with former RNC Chairman Michael Steele and Huffington Post editor Howard Fineman, Matthews had just hosted a discussion where the "guy who was black was telling the two guys who were white they were nuts."
"What's a food stamp president," Matthews asked.
Gingrich went on to outline the increase in food stamp consumption under Obama and challenged Matthew's suggestion that there is a racial connotation to that moniker.
"Why do you assume food stamps refer to blacks? What kind of racist thinking do you have," asked Gingrich.
Matthews replied that Ronald Reagan talked about the African American Welfare Queen in the 1980s.
"I don't believe he ever used the term," replied Gingrich, referring to the famous 1980s figure's race.
"He didn't have to," Matthews replied.
"So, we're not allowed to talk about food stamps because your sensibility tells us that 35 year ago… give me a break," said Gingrich to the RNC crowd's applause.
Watch the segment below via MSNBC:
> >Follow Noah Rothman (@Noah_C_Rothman) on Twitter
Have a tip we should know? tips@mediaite.com