Matthews And Guest Wonder What's In Romney's Head When He Looks Down On 'Hero' Obama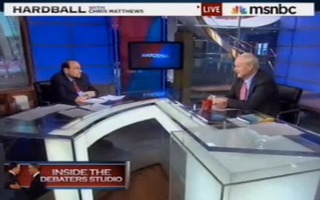 MSNBC anchor  Chris Matthews and Inside The Actor's Studio host James Lipton analyzed the debate performances of both Mitt Romney and President Barack Obama on Wednesday. In the course of their analysis, they verged into a psychological deconstruction of Romney – wondering what he may have been thinking when he "looked down on the president." Matthews said that it was clear Romney had little regard for Obama "as a person," but declined to speculate on the reasons for Romney's disdain beyond the fact that he may not "understand the Constitution." "I don't want to get into it, but we can all imagine what that was based upon and none of it good," said Matthews.
Matthews opened the segment by playing a clip of the moment when Romney asked Obama if he had characterized the September 11 attack in Libya as terrorism on the day after the attack. Rather than respond to the question, Obama replied simply "proceed."
"It was the face off in High Noon. And the President of the United States was Gary Cooper." said Lipton. "At that moment, he became a hero, I think" Lipton said that Americans would either chose a president or "a boss" in November. "Job creator is a euphemism for profit creator," Lipton added, noting that, in his estimation, creating profit often requires downsizing employees in the process.
Matthews then played a clip of the confrontation between Obama and Romney over the GOP nominee's assertion that permits for energy exploration on federal lands is down over the last four years. As crosstalk between the two candidates died down, Romney spoke over the president attempting to get his point across and told Obama "you'll get your chance" to respond.
"I don't think he understands the Constitution of the United States," said Matthews after watching the exchange. "He's the President of the United States. You don't say, 'you'll get your chance.'"
"If Mitt Romney were the president and Barack Obama were the challenger, and these roles were reversed, and Obama treated Romney – the president in this construct – the way he was treated, you would have heard an outcry from coast to coast and you would never, ever hear the end of it," Lipton said, inexplicably. "It is rude. It's inexcusable. I think it's a very, very sad day when the presidency, which has been under fire since Nixon — and particular this president — can be treated this way by someone who is an American citizen."
"I think it's a lack of deference," Matthews said in agreement. He said that Romney masked his disregard for Obama in the first debate, "but through it all he looked down at the president."
"He looked down at him as a person," said Matthews. Lipton said that he would not go that far, saying that he could not read Romney's mind. "Is he looking down on the president? I wouldn't be at all surprised," Lipton said. "There are reasons for it."
"Many of them bad," Matthews concluded.
The pathology of this conversation should be self-evident. When the president becomes iconic – a figure that is deemed by his supporters to be beyond criticism — there is a dangerous dynamic at play.
Watch the segment below via MSNBC:
> >Follow Noah Rothman (@Noah_C_Rothman) on Twitter
Have a tip we should know? tips@mediaite.com