Matthews And Guests Utterly Perplexed That Blacks Could Support 'Pure Racism' Of The Tea Party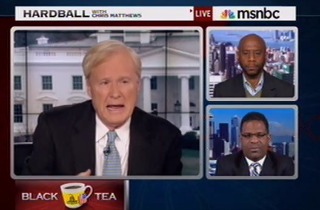 MSNBC host Chris Matthews and two guests on Wednesday investigated what they identified as strains of homophobia, xenophobia, and racism within the tea party. One of the guests was a filmmaker who is investigating the phenomenon of African-American conservatives who sympathize with the tea party. Matthews was vexed by the existence of black conservatives. He expressed surprise that African-Americans, who were dependent on the federal government for civil rights legislation, would support an ideology that backs state's rights.

RELATED: Chris Matthews: GOP A 'Ruling Class' Committed To Rights Of 'White Men Of Property'
Matthews opened the segment congratulating MSNBC for their efforts at trying to show "the real face of the tea party" which he said was characterized by racial rhetoric and outright racist imagery.
"My study suggests that there is a strain of racism in the tea party," said University of Washington assistant professor Christopher Parker. "There's definitely a racist strain, but it goes beyond racism. It goes to homophobia and xenophobia as well, Chris."
Matthews asked if tea partiers longed for a "dreamy nostalgia" of a time when there were "no gays, where blacks were slaves, where Mexicans were in Mexico."
Parker agreed with the Matthews and said that tea party conservatism is "reactionary" and "scared of losing the America that they know and love to these other groups of people."
Matthews turned to filmmaker Kevin Dotson who is presently making a film about African-American tea party supporters. Dotson explained that black conservatives support fiscal conservatism, after which there was a prolonged silence.
"Why would an African-American whose history comes from freedom, basically, the insistence by the federal government on civil rights against state's rights, why would – on the issue of just a basic ethnicity and history – why would a person want to identify with a group that's basically pro-state's rights?" Matthews asked
Dotson replied that he was just as fascinated by that question, though he did not directly answer Matthews' inquiry.
The MSNBC host turned back to Parker. Both agreed that tea partiers were disturbed by the "browning of America" and are consumed with xenophobia. "It does sound like pure racism," Matthews opined, "if you want the country to be tribally white 100 years from now."
Watch the segment below via MSNBC:
— —
> >Follow Noah Rothman (@NoahCRothman) on Twitter
Have a tip we should know? tips@mediaite.com