Sununu Battles Matthews Over Paul Ryan's Budget: 'I'm With Romney, Forget Ryan's Plan'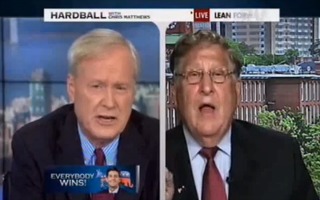 Mitt Romney surrogate and former New Hampshire Governor, John Sununu, appeared on MSNBC with Chris Matthews on Monday where he was asked repeatedly to defend the budget reform proposals put forward by vice presidential candidate Paul Ryan. Sununu became agitated with Matthews when he was forced to defend Ryan's budget but was unable to discuss the distinct budget proposals of Mitt Romney.

Matthews opened the interview by asking Sununu why he thinks Romney has made the effort to distance himself from Ryan's budget. "This is not Ryan/Romney as a ticket, it's Romney/Ryan," said Sununu.
"He likes Ryan without the plan," Matthews pressed.
Sununu answered that, while Romney appreciates the Ryan budget reform proposals, Romney has his own budget that he is running on.
"So he's a cafeteria Catholic on this," Matthews said, suggesting that Romney was picking and choosing what Ryan advocates that he would support. When Sununu argued that the government was going to have to reform Medicare or it would go bankrupt eventually, Matthews agreed.
"Are you still with Ryan," Matthews asked again.
"No, I'm with Romney," Sununu protested. "Forget Ryan's plan."
Matthews went on to list the number of ways in which Romney was on record being "with Ryan," but Sununu became frustrated that the conversation had shifted away from the original topic of Medicare reform.
"Medicare is going to be covered by guaranteeing to everybody 55 and over that they can have Medicare exactly as it is today," said Sununu.
"Why is that a good deal," asked Matthews.
"I'd rather have a private insurance policy than a government insurance policy any day," replied Sununu.
Matthews asked why Romney is distancing himself from Ryan's plan if his proposal is so valuable. "Because Romney's is better," replied Sununu. "It is designed to create a growth pattern that generates another three quarters of a percent of growth that fills the whole."
Sununu became frustrated that he was only being asked about Ryan's plans as opposed to those of Romney. "Here's your problem: you guys don't understand there is guy at the top of the ticket," said Sununu.
Watch the exchange below via MSNBC:
> >Follow Noah Rothman (@Noah_C_Rothman) on Twitter
Have a tip we should know? tips@mediaite.com